Sesame Dehulling Machine-Make Your Food Taste Better
Sesame is a very good option for food processing industries, in the sesame pretreatment,
sesame dehulling machine
is used in sesame peeling to improve the flavor and palatability.
A lot of people like the taste of sesame paste and processed food product with sesame on it, some of them may want to try making some awesome food by themselves, so they decided to buy sesame at the market and cooked it at home, with a little disappointment, they find the sesame doesn't taste as good as they tasted before. Except for the cooking skills, the sesame skin is not removed is the most common reason.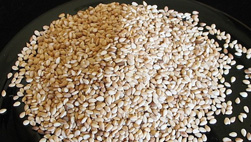 Selling the dehulled sesame might be a good business now, as there are so many restaurants and bakeries, not to mention the food processing factories, the big market is already there, so it's never too late to start the business. We are the leading manufacturer of food processing machine, our sesame dehulling machine has been one of our hottest products, it is with high efficiency and low power consumption. We have received many positive feedbacks from our customers,you can get the best technical support here.