Briquette Press
Products list
Briquette Press
Briquette Press
To compress incompact powder into a certain shape which will not be easily broken is called Briquetting. The briquettes have many applicaitons such as brick can be used in building. Coal or Charcoal Briquettes can be used for burning. The shisha tablets can be used for smoking. The mine powder briquettes can be easily to transport and storage. In general, there are three kinds of briquette presses:
Screw Briquette Press is to process column briquette bars from sawdust, agro-waste etc,
Roller Briquette Press is to process oval, pillow, square and other all kinds of shapes of briquettes from charcoal, coal and mine powder etc.
Pistion Briquette Press is to make coal ball, bricks and charcoal tablets etc. with all kinds of shape such as round, square,honeycomb and other patterns.
The use of briquetting for conversion of agricultural residues is new developed. Agricultural residues are one of the most important of biomass fuel. They arise in large volumes and in the rural areas. However, residues are often bulky and difficult to burn so various conversion techniques have been developed. In fact, briquetting is a process providing relatively low added value by means of relatively high technology. Biomass densification, also known as briquetting of sawdust and other agro residues, has been practiced for many years. Screw extrusion briquetting technology was invented and developed firstly.
Now, biomass briquette press have two types: ram or piston press and screw extrusion machines, are used for briquetting. While the briquettes produced by a piston press are completely solid, screw press briquettes on the other hand have a concentric hole which gives better combustion characteristics due to a larger specific area. The screw press briquettes are also homogeneous and do not disintegrate easily. Having a high combustion rate, these can substitute for coal in most applications and in boilers.
Appropriate Biomass Residues for Briquetting:
Effect of particle size and shape of the agro residues for densification. The ideal size was identified to be 6-8 mm.
Effect of moisture. Ideal level was 8 to 10 per cent.
Effect of feed preheating studied and the temperature upto 90 to 110 degree centigrade for the feed was optimised.
Effect of temperature on the die was found important and the temperature at 280 to 290 0C was observed to be most appropriate
Effect of mixing rice husk with bagasse and bagasse pith to achieve the briquetting of these materials.
Briquetting is the transformation of a powdery or granular product formed into composition with more valued pressure. This is for recycling mine waste and coal waste in production, which accomplished by compacting the product with a roller press sometimes in the presence of a binder material. The briquettes can be produced with high or low pressure and can undergo mechanical or thermal treatment according to the characteristics of the processed material, the binder used and the desired final product.
The series briquetting presses produced by us have two larger roller mould in a fixed position in the frame, with the other two smaller rollers moveable to adjust the suitable pressure. As its named implied, it has four rollers and do twice pressing in production of briquettes, so the briquette is stronger and in higher density. The surface of briquettes will be smoother.
Raw material for briquette press can be coal, metallurgical slag powder, dry powder, metal magnesium powder etc. According to different materials, different compacting pressures are required for briquette presses. It has many applications in large industrial such as metallurgy field. The mine powder of color metal, black metal need to be compacted into ball for further smelt, such as dirt, oxidation skin, collected dust, metal fine powder, raw mine powder, manganese powder, silico-manganese powder and other powder material.
Suitable material for briquetting:
Color and Black Metallic Mine powder: Iron scale, iron sludge,Precipitator dust, Iron concentrate, Raw material powder,
Manganese ore fines,Silicomanganese alloy. Etc.
Coal:Coal powder, coke powder, slime peat, middle coal,lignite etc.
Other material: Charcoal powder, fireproof material, Desulfurized gypsum,Dolomite etc.
Application: standard bricks, blocks, perforated bricks, paving bricks, etc. can be produced with various molds.
Process: automatic pallet conveyance, automatic leading-out and hydraulic molding.
Structure:
(1)The series of brick and block making machine are solid and durable for its four guiding columns and patent lengthening sleeve guide.
(2) The forced mold synchronous structure gives the products perfect shape and high strength. And the stable demolding process ensures the output of more finished products.
Environmental Protection: The series brick briquette presses conform to the standard of environmental protection with no polution water, slag and waste steam in the process of production.
Second Raw Material feeding System can be required by clients' needs.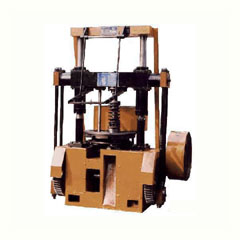 The series Coal Ball Briquetting Presses are hydraulic briquette press which can press various shapes of coal briquettes.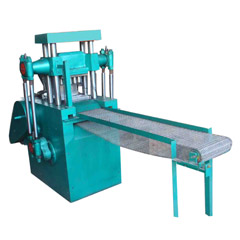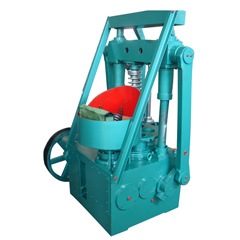 The shisha charcoal is known as necessary accessory for Hookah smoking originated in Arabia. It is becoming more and more popular because of its healthy way for smoking. The shisha charcoal briquette press is developed by our company after several years'expriments and matured for shisha charcoal briquettes making.
The series shisha charcoal briquetting press is applicable for making small round tablets from charcoal dust and powder. The output of briquettes are in high density, perfect shape, good appearance. There are custom diameter of 22mm, 25mm, 33mm and 40mm tablets mould. Meanwhile, it is easy for combustion, no smell and last longer when burning.
The raw material feed to charcoal briquette press is powder from wood log or small sized biomass nuts such as coconut shell after carbonizaiton.
With biomass briquetting plant, the waste charcoal chunk can be also well recycled to make into charcoal briquettes for barbecue or room heating etc. In this plant, binders are being used, and the yield will be 100% made of charcoal powder, chunks or waste pieces.
The charcoal briquette making of mixed charcoal powder, anthracite, binder etc after special technology compressed into barbeque charcoal briquette packed into bags. The product have no smoke, innocuity, no peculiar smell. The product have high heat value, can last barbecue time for 180 minutes. The binder can be chemical innocuity or natural biomass such as starch powder residue etc.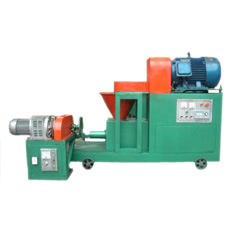 The Coal Bar Briquetting Press is produced by screw type briquette press similiar as biomass briquette press. The machine make the coal waste into bars for further burning, which is easy storage and usage.
Product Related
News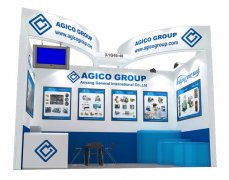 >>into