Largest Peanut Butter Processor Coming Back Or Not
The end of year 2012 hadn't been a happy end for the company Sunland Inc., in America, FDA decided to shut down the whole production line until there is evidence that no more healthy problems or death will be caused by the peanut butter product, without the court. It has been more than half a year now, and Sunland has been trying to come back, we'll see to that in the near future.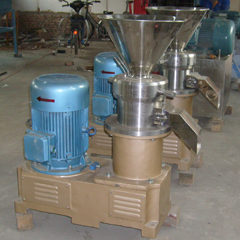 The last outbreak of salmonella caused by the peanut butter produced by Sunland had lead to 41 people getting sick and most of them are children, it was believed that the peanut butter with bacteria problem was caused by the improper use of storage containers, dirty storage places, and the doors for warehouses couldn't prevent the bugs to enter, etc.
Peanut butter machine and the raw material storage are the 2 key factors for peanut butter safety issue.
GEMCO is a leader in manufacturing
peanut butter machine
in China, it has been providing all kinds of peanut processing machines to the peanut processing plant in China and abroad, if you want your peanut butter to be healthy and tasteful, contact GEMCO now!