What are the types of straw briquette press?
Straw briquette machine is used to make biomass briquettes from agriculture wastes like straw, peanut shell, corncob, and other biomass materials like branch, bark, and sawdust.
Biomass pellets are more than 15 cm in length, and 30-40mm in section size. They are much larger than wood pellets. Biomass briquettes boasts high flammability, low dust emission and low cost, whose heat value is up to 3200-4500 kilocalorie. They are common solid fuel widely used in heating supply, cooking range, industrial boiler and biomass power plant.

Types of straw briquette machine
According to different structure and molding mechanism, straw briquette machine can be classified into mechanical briquette press, punching briquette press, screw briquette press and hydraulic briquette press.
Mechanical briquette press
Mechanical briquette press can be classified into roller and die briquette press and punching briquette press. The hourly production varies from 0.8 to 1.2 ton per hour with regard to different materials. The section diameter of briquettes is from 30mm to 80mm, and the density is 0.8-1.3 kg/m3. The shape of biomass briquettes can be cylindrical, rectangular and hexagon. Sometimes they are punched with holes.
Mechanical briquette press has simple structure. There is a continuously rotating eccentric part connected with a piston. It squeezes raw materials within a tapered mold. The large flywheel ensures quiet and stable operation. Molded briquettes are transported through a cooling pipe, where they also get cooled and hardened. Scientific design ensures long working life. It can work for 7000-8000 hours annually, with no need for much maintenance work.
Punching briquette press: This type of briquette machine can generate high pressure and improve the molding rate. The punching briquette press adopt stamping structure, so the capacity is relatively low. It is suitable for small scale production.
Flat die briquette press: Flat die briquette press is suitable for small scale production and personal use. It features simple structure, low cost and easy maintenance. This type of flat die briquette press is good at making feed pellets, but the small pressure makes it less efficient in making biomass pellet fuel. Flat die has less loading capacity, which is easy to break under high stress.
Mechanical briquette press is mainly used to make wood briquettes and industrial briquettes for boilers. They can be produced at the same of different length. Mechanical briquette press boasts high productivity, high density and low production cost.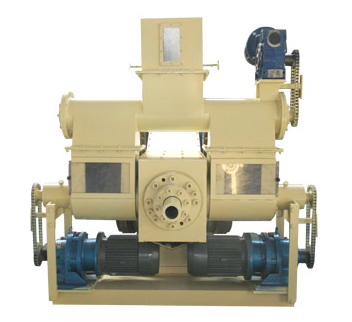 Punching briquette press
Hydraulic briquette Presses
Hydraulic Briquette press has a screw stem that push certain quantity of materials into the pre-compression chamber. After they are pre-compressed, the main piston can push raw materials into the mold and press them into certain density.
The compression process of hydraulic press is relatively slow. It has 6-25 compression cycles every minute, depending on the feeding quantity and briquette density. Traditional hydraulic briquette press can only produce cylindrical briquettes, whose capacity is 50-200 kg/h. but they can make rectangular briquettes, and the efficiency is 1.5 tons per hour.
Rectangular briquettes are more convenient to store than cylinders, for there are less space between 2 briquettes. The briquetting process doesn't requires binders, for the natural lignin will get released under high temperature and play the role of binder. You can mix different materials to improve the density of biomass briquettes.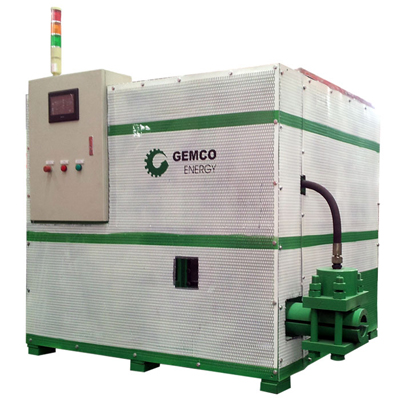 Hydraulic Briquette press
Screw briquette Presses
Screw briquette press is also known as extruder briquette press. It has a feeding screw that pushes materials into the chamber. There is a conical compression screw that presses the raw materials into the conical die and extension die. In this process, the friction and heating of the mold system raise the temperature up to 300 ℃.
The productivity of screw briquette press can reach up to 500kg/h. The compression part is a isolated, equipped with small warehouse, PLC control panel, smoke hood, etc. Screw briquette press is good at producing high-density and high-quality briquettes. It requires the raw materials to be fine and uniform, water content of 6-8%. With high quality materials, screw briquette press can produce biomass briquettes with longer burning time than other fuels.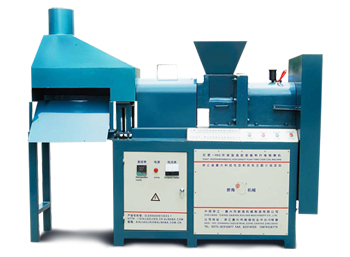 Screw briquette press