Rail Clip
Rail clip, or elastic rail clip, is used to secure the rail to the underlying tie plate. By bending and deforming, the rail clamps can exert pressure on the rails to prevent longitudinal movement of the rail due to temperature changes and vibrations. Usually, the track clip is made of spring steel processed by hot forging method. With the most uniform microstructure, forged rail clips are considered better than other metal forming processes.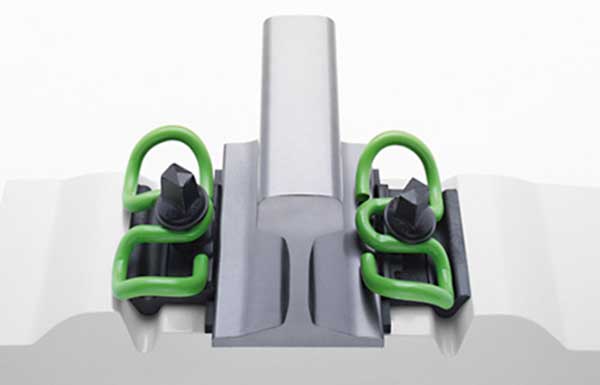 AGICO Rail Clips
As a professional track clamp manufacturer and supplier, AGICO is committed to providing a variety of high standard rail clips and comprehensive product tracking services. AGICO rail clips adopt high-precision design, made of high-grade spring steel. With over 20 years' experience in railway clip production, AGICO has become China's largest and most competitive railway fixture production base, qualified to tender national large and medium-sized railway projects hosted by China Railway Corporation.
In addition, we have the most advanced rail clip production line, from cutting materials, intermediate frequency heating, three stamping, quenching, tempering, inspection to packaging. Our daily production capacity is 100,000 rail clamp. Our rail clip can be customized according to the requirements of clients.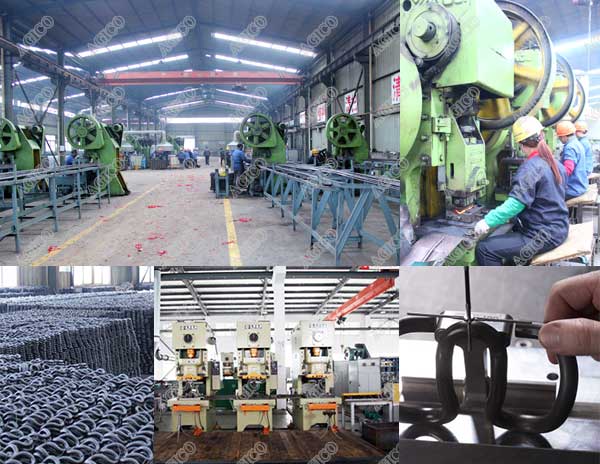 Varieties of Rail Clips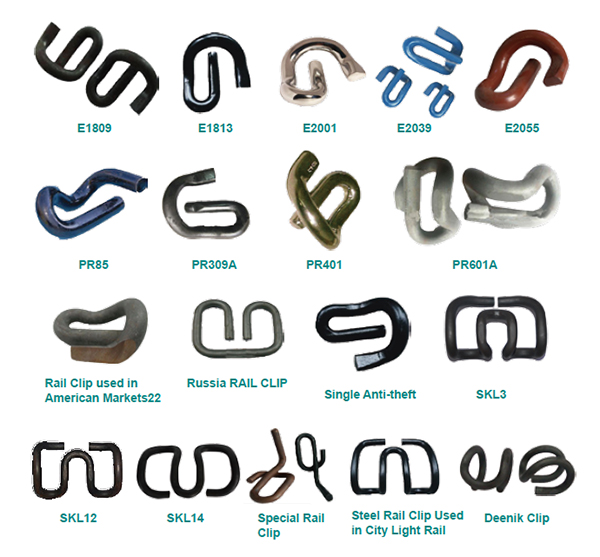 Series
Type
Hardness
Material
Fatigue life
Surface
Standard

E rail clip

E1,E2,E3
44-48HRC
60Si2MnA:
C:0.56-0.64,Mn:0.60-0.90,
Si:1.60-2.00,Cr:≤0.35,
P:≤0.03, S:≤0.03

60Si2CrA:
C:0.56-0.64,Mn:0.40-0.70,
Si:1.40-1.80,Cr:0.70-1.00
P:≤0.03, S:≤0.03

55Si2Mn:
C:0.52-0.60,Mn:0.60-0.90,
Si:1.50-2.00,Cr:≤0.35
P:≤0.03, S:≤0.03

38Si7:C:0.35-0.42,Mn:0.50-0.80,
Si:1.50-1.80, P:≤0.03, S:≤0.03
For Dia.18 is 3 million
cycles without breaking.
For Dia.20 is 5 million
cycles without breaking.
plain (oiled), Oxide black,
color painting or according to
customer requirement.
DIN17221, BS970, GB/T1222
E1609
E1809
E1817
E2001
E2006
E2009
E2055
E2056
Vossloh clip&
Forged rail clip
SKL1
42-47HRC
PR rail clip
PR309
44-48HRC
PR401
PR601
PR85
Customized production of rail clips are available according to your drawings or samples!
Parameters of various types of Rail Clip
Model
Diameter
Weight
Material
Type III
Ø18
0.80kg/pc
60Si2MnA
E1609
Ø16
0.43 kg/pc
60Si2MnA
E1809
Ø20
0.61kg/pc
60Si2MnA
E1813
Ø18
0.62kg/pc
60Si2MnA
E2001
Ø20
0.80kg/pc
60Si2MnA
E2007
Ø20
0.80kg/pc
60Si2MnA
E2009
Ø20
0.80kg/pc
60Si2MnA
E2039
Ø20
0.80kg/pc
60Si2MnA
E2055
Ø20
0.80kg/pc
60Si2MnA
E2056
Ø20
0.80kg/pc
60Si2MnA
E2063
Ø20
0.80kg/pc
60Si2MnA
PR85 Rail Clip
Ø13
0.25kg/pc
60Si2MnA
PR309A
Ø19
0.85kg/pc
60Si2MnA
PR401
Ø20
0.97kg/pc
60Si2MnA
PR415
Ø20
0.95kg/pc
60Si2MnA
PR601A
Ø20
1.03kg/pc
38Si7
SKL 1
Ø13
0.48kg/pc
60Si2CrA
SKL 3
Ø13
0.48kg/pc
60Si2CrA
SKL 12
Ø13
0.53kg/pc
38Si7
SKL 14
Ø13
0.53kg/pc
60Si2MnA
Special Rail Clip
Ø13
0.48kg/pc
60Si2MnA
Russia Rail Clip
Ø18
0.58kg/pc
60Si2MnA
Deenik Clip
Ø25
0.49-0.68kg/pc
60Si2MnA
Single Anti-
Theft
Ø20
0.25kg/pc
60Si2MnA
Rail clips production process
Raw material gathering—Shearing—heating to forging temperature—Forming—Hardening—Tempering—Surface Treatment—Inspection—Packing
The Spring steel bars should first be cut as required. By convention, the sheared bar is heated to 950 ° C to 1000 ° C, and then the heated rod is transferred to a power press for forging. Before hammering, keep three sets of molds and fixtures according to the drawings. The forged rail clips are conveyed to the quench tank. After checking the dimensional accuracy and the quenching hardness, the rail clips are sent to the next tempering procedure to achieve proper toughness in the spring. The final product will be packaged after rigorous inspection.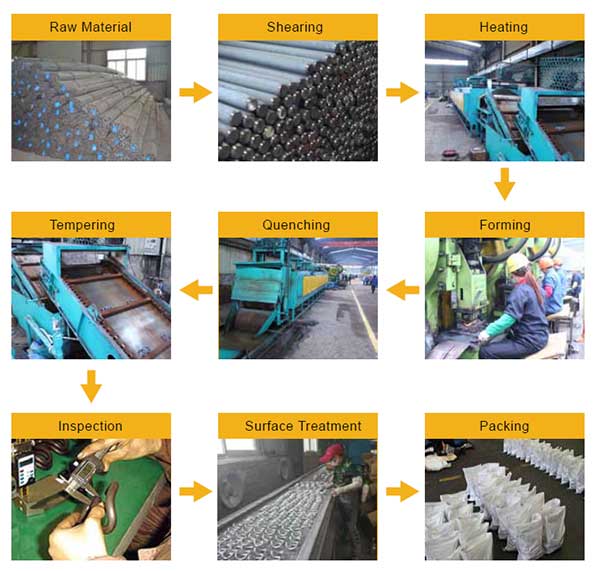 Quality control System
We carried out rigorous test and fully authentication on every manufacture steps of rail clips. Meanwhile, a complete set of quality control systems from raw material procurement to finished products packaging. We have a professional inspection team to check every process of the production line.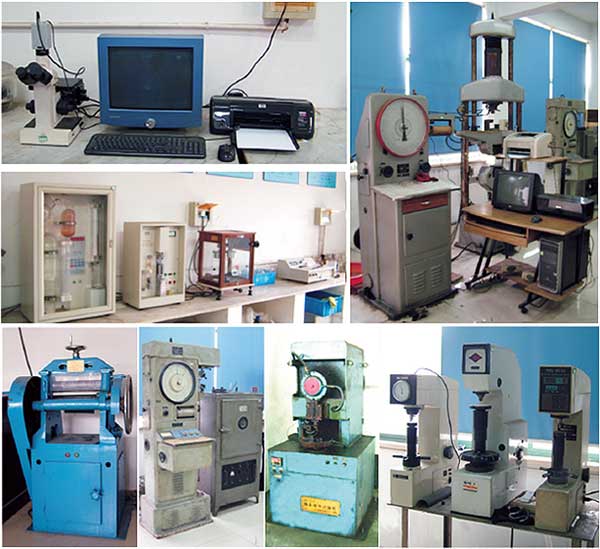 Inspection machines for finished rail clips
Brinell Hardness Tester
Carbons and Sulfur Analyzer
Rockwell Hardness Machine to test metallic materials
Automatic Impact Testing Machine
Metallographic Microscopes
Automatic High-Speed Analyzer
Fatigue Testing Machine
Metallographic Specimen Polishing Machine
Metallographic Specimen Pointing Machine