Rail Gauge Rod
Rail gauge rod is a specially designed member bar used to join the 2 steel rails on both sides, so as to protect them from tilting and keep them in certain rail gauge. Rail gauge rod is also called gauge tie rod and gauge tie bar.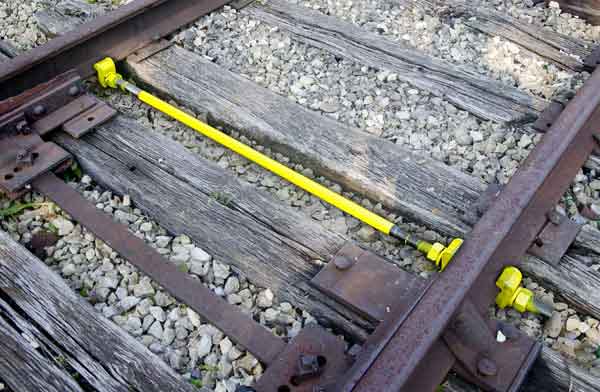 Types of rail gauge rods
As an experienced rail gauge rod manufacturer, our products is applicable to 56-½" track and rails of 60-140 lbs, with both insulated and non-insulated type. Our products has obtained ISO9001 certification and CRCC authorization. In addition, we manufactured gauge tie rods with the length of 600mm, 762mm, 900mm, 1435mm to be applied in UIC and BS rails.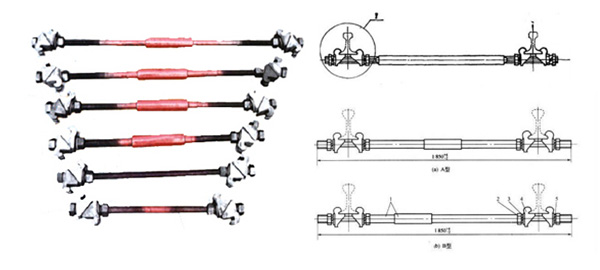 Standard gauge rods with 2 ends is constituted by 1pcs rod, 4pcs iron card, 4pcs flat washer, 4pcs nuts, 4pcs spring washer. It has insulated and non-insulated 2 types. meanwhile, we are ready to provide customized design according to clients' sketch and specific requirement.
AGICO can provide you with rail gauge rod with high intensity, durability and chemical stability, which is easy to install and maintain.
| No. | Part | Quantity | Specification | Material |
| --- | --- | --- | --- | --- |
| 1 | rod | 1 | M30 M36 | 3# |
| 2 | iron card | 4 | I type II type | KTH350-10 |
| 3 | plain washer | 4 | M30 M36 | 3# |
| 4 | nut | 4 | M30 M36 | 3# |
| 5 | spring washer | 4 | M30 M36 | 65Mn |
The Importance of Rail Gauge Rod
Rail gauge rod plays an important role in rails' lateral stabilization and keeping rail distance. It is common to see some railways with track circuit. Under such circumstance, rail gauge rods made of high insulation resistance materials are necessary to separate circuit between the 2 rails. If the rail gauge rod is in absence, the rail gauge may be biased and can cause derailment or overturn of the train.
Rail rod gauge has 2 clamping device at both ends to fix the rail track, and a rod in the middle constraining the rail gauge to a certain length, thus preventing them from sliding.
Rail gauge rods are especially important in weaker parts of the rail, such as sharp curves, turnout, connection and temporary tracks. They help relieve longitudinal tension and maintain regular gauge of the track.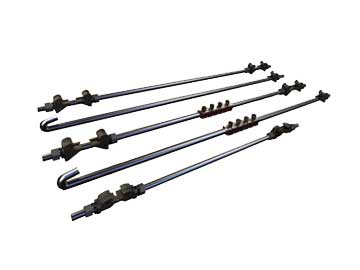 How to choose the proper rail gauge?
Traffic environment
If the traffic intensity on a track is larger, it's better to have a wider rail gauge than normal.
In Poor Areas
To connect poor areas with the outside developed world, narrow gauges are applied in these areas.
Train speed
Train speed is determined by the diameter of wheel, which is constrained by the rail gauge. Usually, the wheel diameter is 0.75 times of the gauge, so the train speed is in proportion to the gauge width. Under such condition, B.G track is superior than M.G and N.G track for trains with higher speed.
Topography
Narrow gage is advisable in mountain areas, for it is more flexible and can be placed on small curves. This is why some long railways with the length of thousands of kilometers has the gauge as narrow as 610mm.