Rail Shoulder
The rail shoulders are casted in the concrete sleepers to secure the flexible rail clamps and steel rails. Based on different production processes, rails shoulder can be categorized into cast-in and weld-on 2 types. Both 2 types of rail shoulder are effective in fixing elastic rail clips and prevent theft. As a professional rail fastener supplier and manufacturer, AGICO can provide you with various rail shoulders in line with international standard.

Cast-in shoulder
Rail shoulder is the embedded part in rail fastening system. It is assembled with E clip and casted in concrete rail sleeper to fasten the rail track. Cast-in shoulder is made of cast iron, like GB/T 1348-1988, NF EN 1563(1997), ISO1038, DIN 1693, JIS G5502 (2001), KS D 4302, GOST 7293(1985) and BS EN 1563(1997). The chart below shows the mechanical property and chemical composition of the rail cast iron shoulder.
Product
Rail shoulder
Application
UIC54
UIC60
115RE, ,50kg rail, 60kg rail,BS80lbs, BS100lbs, ect.
Material
Name
QT500-7
QT450-10
QT400-15
Standard
GB 1348-88
GB 1348-88
GB 1348-89
Chemical composition(%)
C:3.60-3.80
C:3.40-3.90
C:3.50-3.60
C:3.60-3.80
Mn:0.2-0.5
Mn:≤0.5
Si:2.50-2.90
Si:2.70-3.00
Si:3.0-3.2
P:≤0.08
P:≤0.07
P:≤0.07
S:≤0.025
S:≤0.03
S:≤0.02
Tensile Strength
≥500 Mpa
≥450 Mpa
≥400 Mpa
Yield Strength
≥320 Mpa
≥310 Mpa
≥250 Mpa
Elongation(%)
≥7
≥10
≥15
Hardness
170~230HB
160~210HB
130~180HB
Metallographic organization
ferrite + pearlite
graphite + ferrite + pearlite
ferrite
Surface
plain (oiled)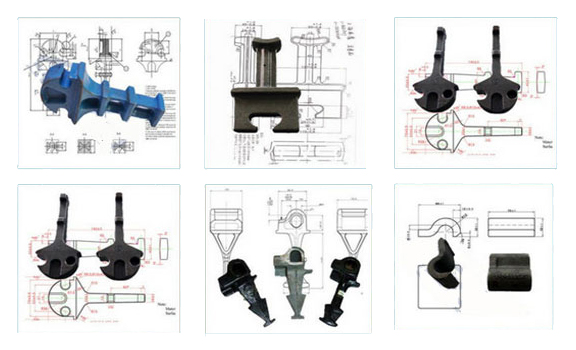 Weld-on shoulder
The weld-on rail shoulder are weld on flat steel plate. It is usually used in place where standard sleepers are unavailable, so the rail shoulder has to be welded on flat steel base plates. It is processed by hot forging, and conforms to AREMA standard. Usually, to meet clients' requirement, the weld-on rail shoulder is made of steel with low and mid carbon content.
Weld-on shoulders can be applied with Pandrol style clips at the range of 30lbs to 113lbs.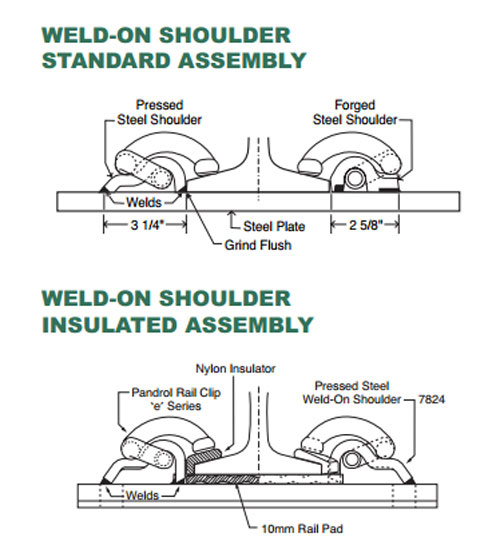 Notes on rail shoulders
The weld-on shoulder fastening makes it possible to manufacture the rails retaining units on the steel sleeper and the steel base plate when the E-shaped rail clamp is used for rail fastening.
Even if the cast-in shoulders are usually embedded in the concrete rail sleeper, they can be welded to a longer length of the steel track section or bearers for the manufacture of switches and cross arrangements using vertical rail geometries.
The welding capacity of the rail shoulders is determined by the layout design, which makes the railroad shoulder more useful and cost-effective.
The rail shoulder accessories for a particular rail section shall be used in accordance with the design criteria to achieve proper elastic chuck toe loading. And certain rail shoulder with a milling area need to be provides to achieve better weld integrity.