Steel rail
Steel rails function as the core part of the railway. They serve to guide the train, bear pressure from the wheels, and transfer the pressure to rail sleepers. To support the train and facilitate traveling, the steel rail must have smooth surface with low resistance.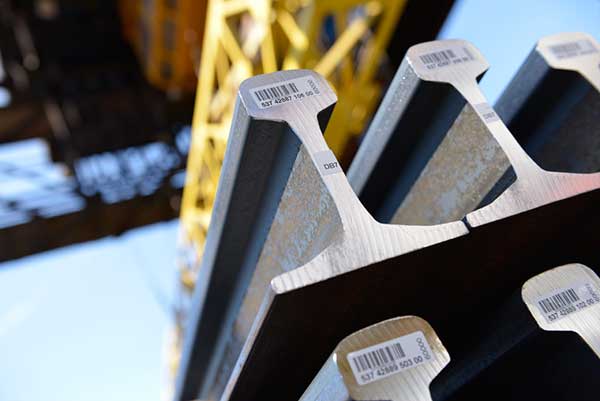 Raw materials for steel rail
Commonly, rails are made of hot rolled steel and molded into an asymmetrical rounded I-beam. As steel rails are subject to extremely high stress, it has to be made from high quality steel alloy. The raw material for making steel rails has been evolving since the invention of train, including the change from iron to steel. Only when the steel rail and fasteners are strong enough, they can sustain more weight and higher movement speed.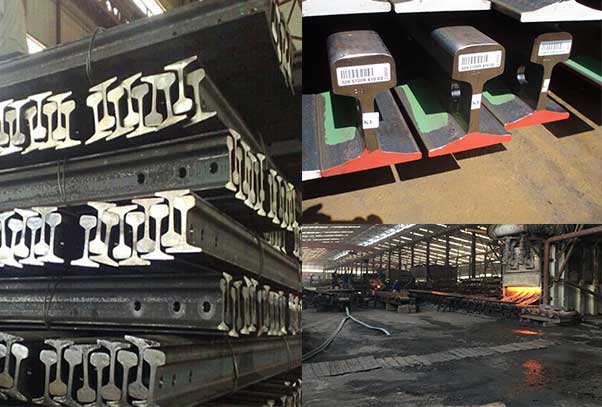 Categories of steel rails
Generally, steel rails are graded based on their weight under standard length. Heavier steel rails have higher strength, which can support larger axle loads and higher train speed with less damage. Meanwhile, their price is much higher than lighter ones.
Steel rails in China
Crane rail
Crane rail includes QU120, QU100, QU80, and QU70. They are mainly made of manganese steel.
Heavy rail
The most widely used types are 38kg, 43kg, and 50kg. The 60kg steel rail is advisable for railways with high speed and large fright volume.
Light rail
Under GB (China national standard), light rail can be classified into 9, 12, 15, 22, and 30kg/m. According to YB (metallurgy Department Standard), there are 8, 18, 24kg/m and other types.
Steel rails of International standards
In terms of the international standard, steel rails can be classified into more types. For instance, ASCE series of America, BS series of British, JIS series of Japan, DIN series of Germany, and UIC series of International Union of Railways.
UIC860-O standard steel rail/UIC54 steel rail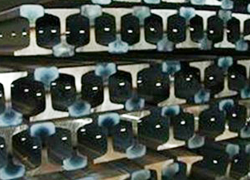 Size: UIC54, UIC60
Standard: UIC860-o standard, EN-13674-1
Material: 900A/1100
Length: 12-25m
UIC 860 Standard Rails
SIZE
DIMENSION (mm)
WEIGHT (kg/m)
A
B
C
t
UIC
54
70
159
16
54.43
UIC
60
74.3
172
16.5
60.21
BS11-1985 standard steel rail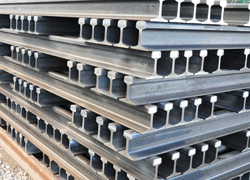 Size: BS50'O', BS60A, BS60R,BS70A, BS75A, BS75R,BS80A,BS80R, BS90A,BS100A, BS113A
Standard: BS11-1985 standard
Material: 700/900A
Length: 8-25m
BS11:1985 Standard Rails
SIZE
DIMENSION (mm)
WEIGHT (kg/m)
A
B
C
t
50O
52.39
100.01
100.1
10.32
24.833
60A
57.15
114.3
109.54
11.11
30.618
60R
57.15
114.3
109.54
11.11
29.822
70A
60.32
123.82
111.12
12.3
34.807
75A
61.91
128.59
114.3
12.7
37.455
75R
61.91
128.59
122.24
13.1
37.041
80A
63.5
133.35
117.47
13.1
39.761
80R
63.5
133.35
127
13.49
39.674
90A
66.67
142.88
127
13.89
45.099
100A
69.85
152.4
133.35
15.08
50.182
113A
69.85
158.75
139.7
20
56.398
American standard steel rail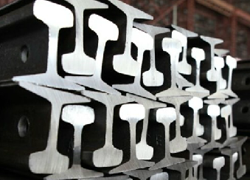 Size: ASCE25, ASCE30, ASCE40,ASCE60, ASCE75, ASCE85, ASCE90, ASCE115, ASCE136, ASCE175
Standard: ASTM standard, AREMA standard
Material: 700/900A/1100
Length: 6-12m, 12-25m
SIZE
DIMENSION (mm)
WEIGHT (kg/m)
A
B
C
t
ASCE 25
38.1
69.85
69.85
7.54
12.4
ASCE 30
42.86
79.38
79.38
8.33
14.88
ASCE 40
47.62
88.9
88.9
9.92
19.84
ASCE 60
60.32
107.95
107.95
12.3
29.76
ASCE 75
62.71
122.24
122.24
13.49
37.2
ASCE 85
65.09
131.76
131.76
14.29
42.17
ASCE 90
65.09
142.88
130.18
14.29
44.65
ASCE 115
69.06
168.28
139.7
15.88
56.9
ASCE 136
74.61
185.74
152.4
17.46
67.41
ASCE 175
109.86
152.4
152.4
38.1
86.8
JIS E 1103/1101 standard steel rail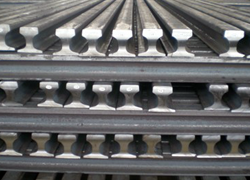 Size: 15kg, 22kg, 30A, 37A,and 50N, CR73, CR100
Standard: JIS E1103-93/JIS E1101-93
Material: According to JIS e standard
Length: 9-10m
JIS E 1103/1101 STANDARD
SIZE
DIMENSION (mm)
WEIGHT (kg/m)
A
B
C
t
JIS 15KG
42.86
79.37
79.37
8.33
15.2
JIS 22KG
50.8
93.66
93.66
10.72
22.3
JIS 30A
60.33
107.95
107.95
12.3
30.1
JIS 37A
62.71
122.24
122.24
13.49
37.2
JIS 50N
65
153
127
15
50.4
CR 73
100
135
140
32
73.3
CR 100
120
150
155
39
100.2
Australian standard steel rail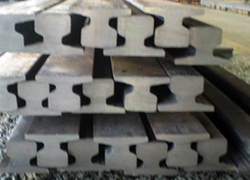 Size: 31kg, 41kg, 47kg, 50kg, 53kg, 60kg, 66kg, 68kg, 73kg, 86kg, 89kg
Standard: As 1085 standard
Material: 900A/1100
Length: 8-25m
AS 1085 Rails
Size
Dimension(mm)
Weight(kg/m)
Material
Length(m)
Head(mm)
Height(mm)
Bottom(mm)
Web(mm);
31KG
63.5
117.5
108
11.5
31.5
900A/1100
8-25
47KG
70
141.3
127
14.3
46.5
900A/1100
8-25
50KG
70
154
127
15
50.8
900A/1100
8-25
60KG
70
170
146
16.5
61
900A/1100
8-25
68KG
73.4
186
152
17.5
67.6
900A/1100
8-25
73KG
70
157
146
32
73.63
900A/1100
8-25
86KG
102
102
165
84.11
85.5
900A/1100
8-25
89KG
102
114
178
51
89.81
900A/1100
8-25