Small Pellet Mill Plant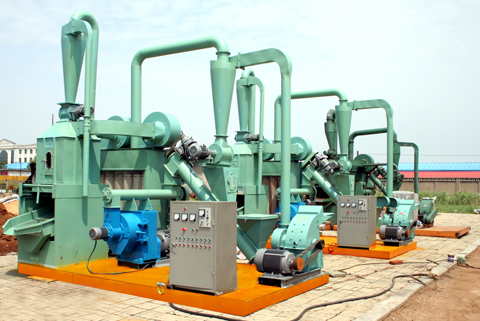 Small pellet mill plant is also called small pellet production line. It is a combination of hammer mill/crusher, dryer machine, conveyor, flat die pellet mill, cooler, packing machine, etc. We can provide you with customized product portfolio, so as to meet your specific demand and reduce your cost.
The core equipment of small pellet mill plant is flat die pellet mill, which is much smaller than ring die pellet mill. Therefore, it is more suitable for small of medium scale production, like small-sized factory, farm and soon. The easy operation and lower cost make it a better choice for new investors. The yield of one flat die pellet mill is under 500kg/h, but you can combine several machines to improve the efficiency.
Main use of pellet mill plant
Small pellet mill plant applies to almost all kinds of biomass materials, such as wood, straw, stalk, peanut shell, rice husk, bamboo shaving, chicken manure, grass, alfalfa, etc.

A pellet mill plant can process the biomass wastes into pellet fuel, which has higher heat value and better combustion ration than firewood. As a renewable energy, it is applied in pellet stove, home furnace, cooking, industrial boiler and power plant.
Pellet mill plant is also used to process agriculture material into animal feed. The pelletizing process cooked the raw materials so that they tastes better and easier to digest. Making Feed pellets is an ideal form to preserve animal fodders. You can use it to feed poultry, fish, cattle, pets, aquatic animals and other water livings.
Why do you need a small pellet mill plant?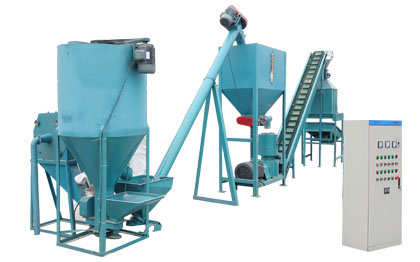 A lot of raw materials are not suitable for pelletizing without pre-treatment. To make full use of them, you need crushing and drying equipments except for a single pellet mill.
A pellet mill plant can save your labor cost and accelerate your production. It's convenient to installation and use. We have professional staffs to arrange and install the constituent equipments, and provide detailed instruction on operation and maintenance.
The pellet mill is equipped with different drive engines, including electricity, diesel and PTO. The hammer mill/crusher can also be driven by diesel engine.
Small pellet production line workflow
Crushing Process
When the thickness of raw wood material is >10mm, and >50 * 50mm(L * W), we need use the Chipper to chip them into small pieces, then crush the small pieces into feed powder with diameter less than 3mm by Hammer Mill (Crusher).
Drying Process
The best moisture content to pelletize is about 13-15%. Our Rotary Dryer is made up of Stove and Main Rotary Dryer, which can reduce the moisture from 60% to 10%. Our stove is fueled by sawdust, wasted wood, coal, which can save electricity consumption largely. Our Rotary Dryer is specially designed for energy saving purpose, the outside of the dryer is covered with special cotton material sheet to prevent the heat from outrunning.

Pelletizing Process
The flat die pellet mill is the core product of small pellet mill plant. It is made of superior alloy steel, and the roller and flat die go through heat and anti-wear treatment, which ensure high durability. Thanks to scientific design and repeatedly test, it achieves continuous output, stable performance, high yield and low failure rate. As the volume is much smaller than ring die pellet mill, it takes up less place, and easy to move an operation.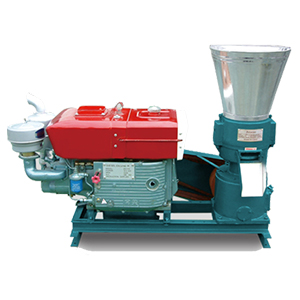 Cooling Process
After the pelletizing process, the temperature of the wood pellet is about 60-80 degree, and the moisture content of the wood pellet is about 15%, so we need use Cooler to reduce about 3-4% moisture, so that the wood pellet will be easy to store. But considering the feedback from some foreign clients, the local climate is very humidity; they hope to cool the wood pellet with moisture 7-8%. In order to satisfy the different need from different clients, we develop one kind of new Stabilizer Combined with Cooler.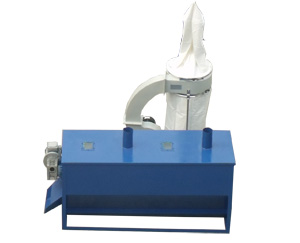 Packing Process
After cooling, the wood pellet will not directly enter into the fuel process in case they are effected by damp. The packing process is necessary, in which we assemble our domestic best Semi-Auto Packing Machine for you.Generally, most clients needs one small weight range scale with auto sealing packing machine, and one large weight range scale with semi-auto packing machine. For the first one, the weight range will be 15-25kgs per bag, and for large scale, it will be 1000kgs per bag or 800kgs per bag, up to different clients needs.