Dryer Machine
When the moisture content of raw materials is more than 18%, you need to dry them before crushing and pelletizing. Dryer machine is a vital equipment before hammer mill and pellet mill. The drying effect directly influence the density, hardness and combustion rate of the end products. To match different scale pellet plant, there are generally two type of dryer: air flow dryer and rotary drum dryer.
Air flow pipe dryer
GC-Dl series air flow pipe dryer is a connection of several groups of impulse pipes. It is usually used in small pellet plant. The heating source is combustible gas. There is an induced draft fan generating negative pressure air draft to draw the raw materials into the coiled pipe, where the high-temperature gas takes away the moisture in the materials.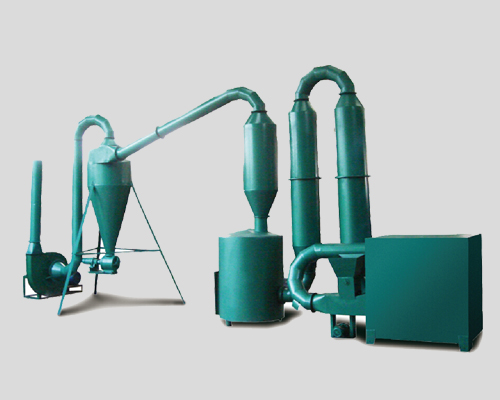 Air flow pipe dryer features
The hot air drying system features low energy consumption and fast drying speed.
Equipped with hot air jet self-sucking device, it can realize automatic suction.
High air velocity can mix the materials and airflow well, so as to achieve better drying effect.
The material with 25% moisture content can be dried to 10% and meet the pelletizing requirement.
Reduce the labor intensity and drying cost as much as possible.
The dryer yield is influenced by the moisture content of the materials.
Air Flow Dryer Parameters
Model
GC-DL-4
GC- DL -7.5
GC-QL-11
GC-QL-15
Capacity(Kg/hour)
200-250KG
400-500KG
500-700KG
800-1000KG
Size of Input Material
(Diameter)
< 3mm & < 5mm
< 3mm & < 5mm
< 3mm & < 5mm
< 3mm & < 5mm
Temperature of Hot Air
150°C~220°C
185°C~220°C
150°C~220°C
150°C~220°C
Consumption of Wood Waste
50-65 kg/h
60-75kg/h
65-90kg/h
100-120kg/h
Power
(Centrifugal Fan)
4kw
7.5kw
11kw
15kw
Net/Gross Weight
1760kg
2100kg
2400kg
2600kg
Dimension(m)
9×2×3.3m
13×2×3.3m
16×2×3.3m
17×2×3.3m
Price(FOB USD)
3600
4400
5620
6130
Rotary drum dryer
This type of dryer has larger output, usually connected with large hammer mill and ring die pellet mill. It can dry up many kinds of raw material like wood sawdust, straw, peanut shells, etc. The following chart shows the drying effect of HG-2100×9000 three layers of rotary drum dryer. We took wood sawdust as an example. As we can see, the original moisture content is 45-50%. After processed by the drum dryer, the moisture is reduced to about 13%. The water evaporation ability is 1.48t/h, and the yield is 2t/h.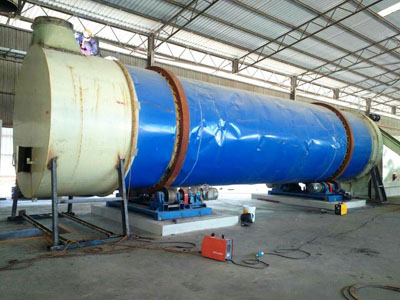 Features of rotary drum dryer
There is a device to remove the stones and iron nails at the outlet of the mainframe.
The front transmission chain is sealed by a net cover, through which you can observe the motor running situation.
The pipe is sealed by asbestos ropes to form flange seal.
The cylindrical inlet and outlet adopt plug-in seal and heat resisting rubber seal.
There are 2 temperature sensor in the air inlet and one in the air outlet.
Parameter of HG-2100×9000 three layers rotary drum dryer
| Model | Transmission power | Spiral pipe diameter | Wind pressure of induced draft fan | Motor rotating speed | Temperature output | Heat output |
| --- | --- | --- | --- | --- | --- | --- |
| HG-2100×9000 | 3kw | 300mm | 4179-4028Pa | 6-10 rpm | 350-400℃ | 180×104Kcal/h |
Counterflow Dryer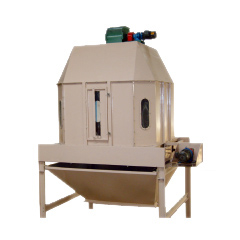 The vertical cooler is a kind of counterflow cooler
Floating Dryer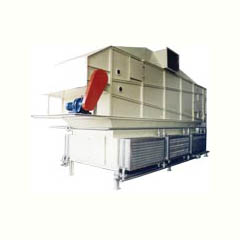 The floating cooler is a kind of dryer which let material floating in the air.
Vibrating Dryer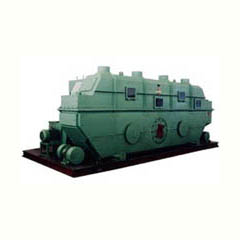 The vibrating dryer is to let material flow by vibrating.
Belt Dryer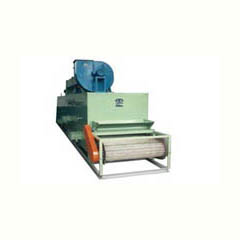 Belt Dryer is to dry the material on belt.