Pellet Mill
Products list
Flat Die Pellet Mill
Flat Die Pellet Press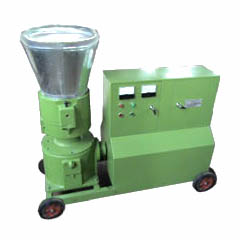 Flat Die Pelleting Press
with Electrical Motor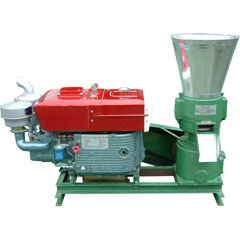 Flat Die Pelleting Press
with Diesel Generator
The ZLSP series Flat Die Pelleting Presses are developed from flat die feed pelletizing machine. The machine is composed by a pair of roller press, a flat die,feeder and gear bearings equiped with electrical motor or diesel generator. The pellets are formed from powder materials by great pressure created between flat die and rollers. Different from ring die pellet mills, the flat die pellet press can process oil cake and other mixed biomass material into granule at one time.
ZLSP series Flat Die Pellet Mill with CE Certificate
| | | | | |
| --- | --- | --- | --- | --- |
| Model | Capacity | Power | Net Weight | Outside Dimension(cm) |
| ZLSP-200 | 80-120kg/h | 7.5kw | 250kg | 100*43*95 |
| ZLSP-260 | 150-200kg/h | 15kw | 330kg | 120*50*107 |
| ZLSP-300 | 200-250kg/h | 22kw | 410kg | 127*52*107 |
| ZLSP-400 | 300-350kg/h | 30kw | 550kg | 147*60*115 |
For animal feed use:
During the process of producing feed pellets, the temperature of pellet press can reach 70-80 centigrade. At this temperature, fecula can be made into paste inside of pellet mill. The inside granule is cooked fully, so the pellets will be not easy to go moldy and degenerative.This kind of cooked pellets can be stored for a long time and improve poultry dainty and assimilation function for feed animal. It also can shorten the period of feeding, so it can efficiently guarantee many users' productive cost.
The flat die pellet mill can be used for making feed pellets supplied to cattle, fish, chiken, pig, shrimp, pets and other animals. For small capacity of production, you can make pet feed at home by using the small pellet press.
For wood pellets and biomass pellets burning use:
This series flat die pellet mill can be used for producing wood pellets and biomass pellets, too. Wood pellets are made of all kinds of wood waste. Biomass pellets are made of peanut sheller, corn stalk and other biomass materials. In the process of making wood pellets, the lignin and resin of woods can serves as binder for pellet briquetting. If the material lack of resin, starch or sugar can be used as binder or it won't form wood pellets successfully by the flat die pellet press. In fact, this kind of small pellet press is very easy to operation if you master some important means to mix suitable materials. The small pellet press are very convenient for solving the waste wood, parings, shaver from wood mills or agri-farm. If you produce the pellets at home, the biofuel pellets produced by them can bring you a warm winner for fireplace or supply as fuel for cooking.
Raw materials to make wood pellets: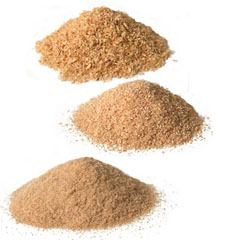 Sawdust Powder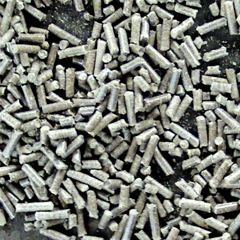 Pellets Produced By Flat Die Pellet Mill
For making pellets by the flat die pellet mill, the biomass material can be wood waste dust, sawdust, corn stalk, peanut shells etc. The wood waste can be all kinds of raw material such as spruce tree waste, pine tree waste and other sawdust waste, tree branches and shavers,parings from wood working factory and furnature manufacturers.
The product is columned granule with slippery firm. The product after flat die granulator can be used to feed animals such as fish, cattle, chicken or burn as biofuel for wood pellets stove or boiler.
Detailed Parts of Flat Die Pellet Mill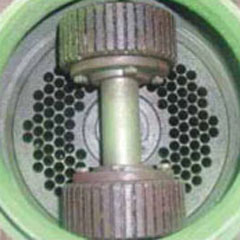 Roller Parts of Flat Die Pellet Press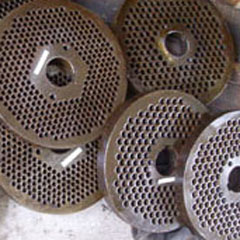 Die of Flat Die Pellet Press
Roller Parts: Roller are the most important parts for making pellets. The material of roller parts must be anti-bearable and no easy to broken. The roller is made of precise materails of alloy metal. The simplest roller press has one pair of rollers. But now, the new developed flat die pellet press have two or three pair of rollers which have bigger capacity of making pellets.
Die Parts: The die parts have many pellet holes for extruding material for compressed into formation of pellets. The holes of die have 6-8 mm diameter for your choose or we can make as your required. Referred flat die pellet mill is compared to ring die pellet mill. They have similiar working theory for pelletizing but the ring die have much bigger capacity and more complex structure. Generally, the flat die pellet press is suitable for home use or small working shop.
Both the roller parts and flat die parts of pellet granulators are easy to wear and bear. So regularly change of these parts is necessary for you. We can offer you different specification spare parts for flat die pellet mill.
Quality Certifcate of Flat Die Pellet Mill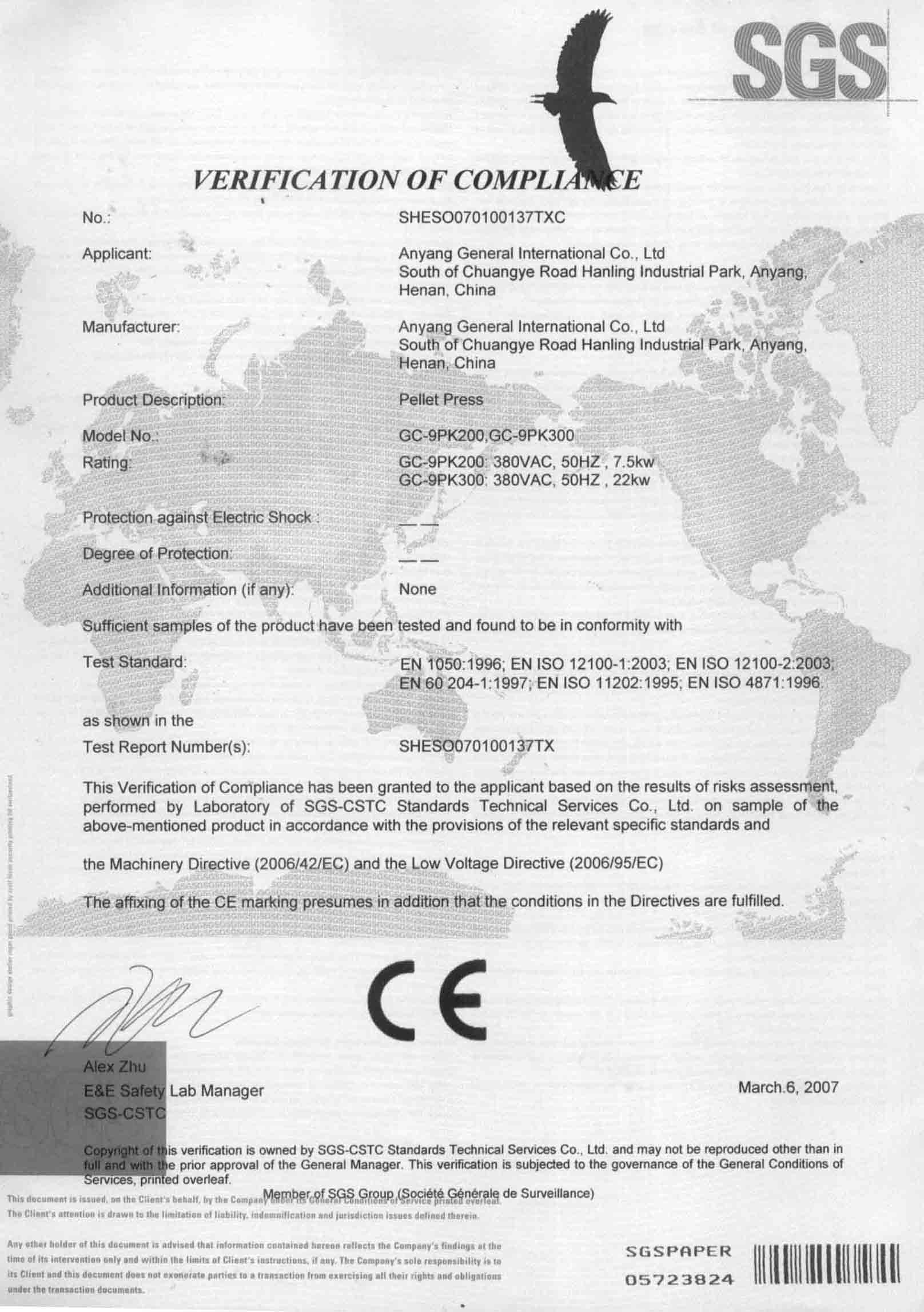 The Difference Between Flat Die Pellet Mill and Ring Die Pellet Mill
1. Feeding Method: Ring Die Pellet Mill adopt mechanical forced feeding, to enter the pelletizing room by high-speed rotation and centrifugal distribution. The material is distributed by scraper, which is non-uniform feeding. The Flad Die Pellet Mill is to feed material vertically by the weight of material itself. The material come into the pelletizing room is equally feeding.
2. Pressure: In the moulds with the same diameter, the diameter size of ring die have the diameter limit of ring die mould, so the pressure is limitated. The diameter size of flat die have not limitation by the moulds, which can increase the inner bearing room. Selection of larger roller bearings can enhance the bearing capacity, not only increasing the suppress power of press roller, but also to extend the service life of machine.
3. Discharge Methods: The Ring Die Pellet Mill belongs to hihg rotation speed, at a high rate of damaged materials when discharge. The flat die is low rotation speed with low breakage rate.
4. The Conditioning Ways of Press Roller: Ring Die Pellet Mill use the two screw at the eccentric wheel in the middle of press rollers. The Flat Die Pellet Mill is to use screw thread column m100 center adjust devcies, which can prop up hundreds tons, fall stable, soft touch, equal in pressure. It can be adjusted in two ways, manual and hydraulic self-regulation.
Product Related
News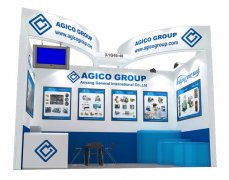 >>into