Ice Cream Making Machine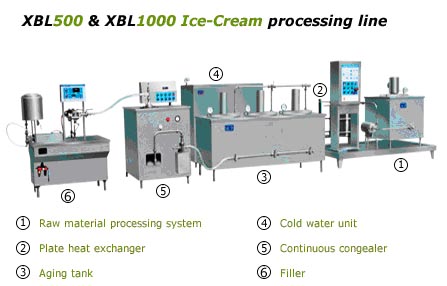 Process Flow of Ice Cream Production Line
Homogenous machine---Plat Heat Exchanger---Aging tank---Cold Water Unit---Continuous Congealer---Ice Cream Sticks Machine
Features of XBL Series Ice Cream Production Line
High automation, convenient operation
Convenience of developing new products
Advanced & homogeneous machine
Two-section cooling facility, saving energy
Continuous congealing facility, saving energy
Rich varieties and design
Design Requirement of Ice Cream Making machine
The following factors should be taken into considerations: water quality, raw materials, energy resources, transportation, environment, etc.
As frozen food, ice cream is often sold locally and not suitable for long distance transportation, thus local market situations should also be considered.
The distance between each equipmment and the wall of the workshop should be no less than 1m.
Distance between each equipment should be minimized to reduce the loss of plumb.
Space of workshop should be no less than 60m².
Distance between quick-freeze storage, storeroom and packing room should be minimized.
Changing room and disinfecting room must be built near the workshop.
The diameter of the water inlet should exceed 6", sewer should be also be built.
Technical Data of Ice Cream Making Machine for Sale
Components
XBL500 ICE CREAM MAKING MACHINE
XBL1000 ICE CREAM MAKING MACHINE
XBL1000 (Double colors)
ICE CREAM MAKING MACHINE
Capacity
Raw Material System
500l/h
Wk100/1set
1000l/h
Wk300/1set
1000l/h
Wk300/1set
Plate Heat Exchanger
BR8-2/1set
BR10-2/1set
BR10-2/1set
Aging Tank
LH100x3/1set
LH300/1set
LH300/1set
Cold Water Unit
LS500/1set
LS750/1set
LS750/1set
Continuous Congealer
CN150/1set
CN300/1set
CN150/1set
Filler
BGJ60-II/1set
BGJ60-II/1set
BGJ50-II/1set
Console
DK500/1set
DK1000/1set
DK1000/1set
Pump
1set
1set
1set