Lychee Peeling Machine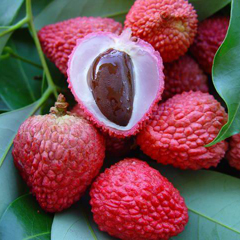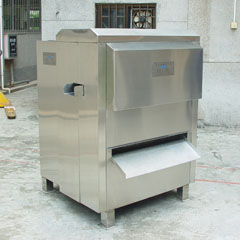 Lychee Fruit / Lychee Skin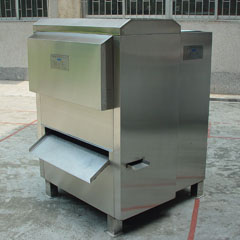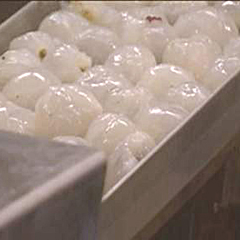 Lychee / Lichee / Litchi Peeling Machine/ Peeler
Litchi / Lichee / Lychee Peeling Machine can peel off skins of litchi (longan) without twig. It is widely applied to process lychee juice, lychee wine, preserved fruits, dry pulp, canned food of litchi (longan). The SPL series Lychee Peeling Machine for Sale features compact structure and efficient working volume, low consumption of energy. What's more, the peeled lychee pulp is clean and loss of pulp is very small.
Anyang Gemco Energy Machinery Co.,Ltd identify and prove the technical performance of Litchi and Longan Peeling Machine which is lead in China and in the world. Additionally, we have hold two patents on the machine.
Specification of Lychee Peeling Machine for Sale
Model
SPL-3000 Lychee Peeler
SPL-6000 Lychee Peeler
Output (Based on material type)
3000kg/h (Lychee)
6000kg/h (Lychee)
2000kg/h (Longan)
4000kg/h (Longan)
Total Power Consumption
18 Kw
28 Kw
Overall Dimension
25000*2300*3100 (mm)
30000*5000*310 (0mm)
Working Theory of Lychee Peeling Machine for Sale:
After getting rid of the twigs and impurities from lychee fruit (or longan), cleaning the lychee skin with water and process disinfection of lychee fruit. Then simply classifying the fruit lychee according to their different sizes. Feed lychee to oriented strip and rotary rubber wheel which is driven by three power rollers. Along with the rotation by rotary rubber wheel, feeding wheel pushes lychee to the surface of oriented strip to cut by knife fixed on knife shelf one by one. Lychee pump with core would be separated from skin by separating wheel, and falls into vibratory launder. At last, discharging wheel for lychee skins takes the waste skins out of machine.
Complete Set of Lychee Peeling Machine / Lychee Peeling Plant
Lychee (litchi, lichee) and Longan Processing Plant includes lychee and longan peeling, core removing and jam making, it is used to peel off the shell, remove the core from the fruits to produce clean Lychee and longan juice, it can be widely used in the downstream processing of lychee and longan juice and fruit wines. The quality of the finished products is stable and can be up to the Chinese hygienic standard for foods.
Lychee and longan peeling, core removing and jam making technology and equipments was a research project which belongs to China Spark Program and transfer of scientific and technology of China. We got two patents for the equipment, in year 2005, the equipment passed the Appraisal of Scientific and Technological achievements, in year 2006, the equipment received Provincial Third Prize of Scientifc and Technological Advancement Award, and Provincial Third Prize of Agricultural Technology Extension Award.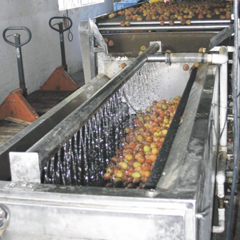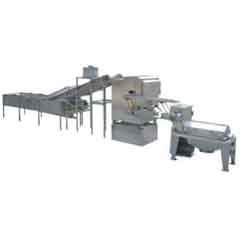 Complete Set of Lychee Peeling Line
Lychee Peeling Line Processing Flowchart

selecting-washing with brush-- Jet air-bubble washing—sieving-- middle storage silo--peeling--selecting--core removing and jam making
Sorting Machine (Based on quality of Lychee or Longan)
Brush Washer
Air Bath Washer
Classification / Grading Machine (Based on size of Lychee or Longan)
Buffer of Lychee or Longan
Rind Removing Machine / Lychee Peeler / Lychee Peeling Machine
Separating / Selecting Machine (Rind / Skind and Pulp)
Fruit Destoner and Beating Machine / Lychee Jam Grinder
Major parameters of Lychee Peeling Plant
Capacity
2-5T/H
Floor Space
L*W*H
30m * 2m * 2.5m
(set up in straight line)
Labor Required
About 10 workers
Floor space
adjustable according to customer's workshop space
The Nutrition of Lychee
Lychee sugar content rich with added energy to increase the role of nutrition, research shows that lychee take a tonic to build up health such as organizations on the role of the brain, can significantly improve insomnia, forgetfulness,mind tired etc.
The pulp of lychee is rich in vitamin C and protein, it helps to strengthen immune function and improve resistance to disease
Lichee have the function of detoxifcation and stop of bleeding and pain
Lychee is rich in vitamins, micro-blood vessels to promote blood circulation, to prevent the occurrence of freckles, smooth skin.
Lychee is sweet, sour, warm in nature, into the heart, spleen, liver