Soybean Hulling Machine
Soybean Hulling Machine/Soybean Dehuller/Soybean Dehulling Machine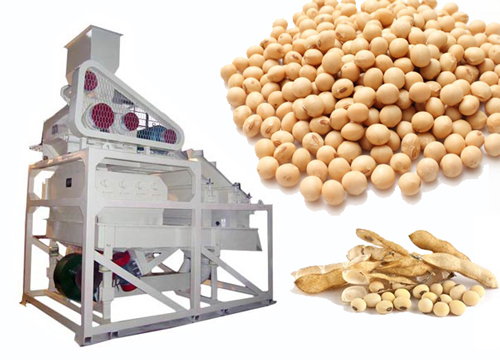 Concerning the technology and equipment of Soybean Dehuller, the following several methods are prevailing at present time
Tooth plate type Soybean Dehuller is a kind of soybean hulling machine with simple principle and structure, but shell remove rate is low, generally is about 70%
Tooth roller type Soybean Dehuller is with high shell removing rate, which generally can reach 90%, but it requires rather low soybean moisture before feeding, generally at 7 ~ 8%, its pre-treatment needs much energy consumption by drying machines with high investment
The Centrifugal Hit type Soybean Dehuller requires rather low material moisture content, its shell remove rate is generally at 90%
Wet Grinding Rolller type Soybean Dehuller, the bean kernels have to be dried after hull removing in most cases, so that it has out of time and has few usage.
Performance Features of Soybean Deuller
YDTZ series high efficient Soybean Huller and Separation Unit of Hulls and Kernels has been developed by our company based on the physical and biochemical properties of soybeans. The YDTZ series Soybean Hulling machine features as the following:
High shell removing rate, and less powder of working. The shell, cotyledon and bean navel will be separated completely with good sieving effect
Large process capacity, single unit can process load of 100 ~ 300T/D,
Compressed processing flow chart, with small area of plant, simple for workers to operation, and low power consumption.
Good performance in security, simple in operation, long life of service, and convenient in repairment.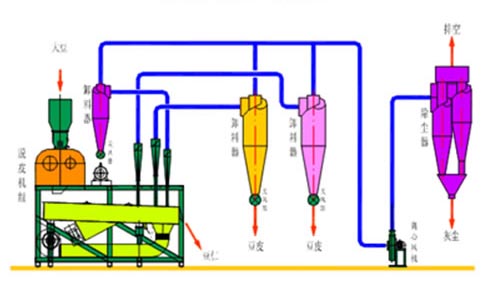 Flowchart of Soybean Hulling Machine
Equipment Specifications of Soybean Dehuller
Model
YDTZ (I)
YDTZ (II)
YDTZ (III)
Hulling Rate (%)
≥90
Powder Rate (%)
≤2-3
Hull Content in Seeds (%)
≤1.5
Seeds Content in Hull (%)
≤2
Capacity (t/d)
100
200
300
Power (kw)
Dehuller
15+0.75
22+1.1
30+1.1
Separator
2×0.75
2×1.1
2×1.1