Sunflower Seed Hulling Machine
Sunflower Hulling Machine/Sunflower Dehuller/Sunflower Dehulling Machine
The complete set of Sunflower Hulling/Shelling Process Plant is a kind of appropriative hulling machine designed to hull, remove shells, separate and re-separate for many kinds of vegerable oil seeds such as sunflower seeds, peanuts, rapeseeds, cottonseeds etc.
The distinguished characteristic of the Sunflower Huller equipment is that there is no need to grade the raw materials to more grades, only the AA grade required to be graded to 2 grades and processed separately. Furthermore, there is no need to separate the kernels from seeds by sieves any more, but by the positive-pressure separator. Therefore, the process has been simplified and the automatization degree and efficiency have been improved greatly.

Complete Set of Sunflower Shelling and Separating Line / Sunflower Dehuller
Sunflower Seed Dehulling Machine, a machine for dehulling flat disc-like seeds having a relatively heavy kernel inside the hull comprising a spinning rotor for throwing the seeds against an annular impact band to crack the hull. The rotor consists of a disc with radial blades on the surface thereof which define channels for orienting the seeds so that they are ejected like spinning saucers and strike the impact ring at their fault lines. The radial blades may also include a sweeping fin to clear the path of seed portions which might interfere with the impacting of the seeds.
Flow chart of Sunflower Hulling Machine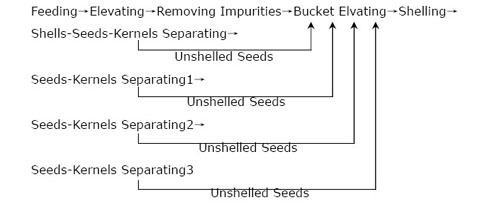 Equipments in Sunflower Hulling Process
Feed-in hopper
vibrating scatter
combined spiral elevator
main part of machinery
huller
shells collector
positive-pressure separator
separates the seeds from the kernels
cyclone
spiral discharger
double-outlet spiral elevator
positive- pressure separator and electric control cabinet
Technical Parameters of Sunflower Dehuller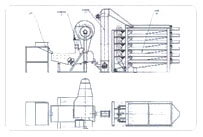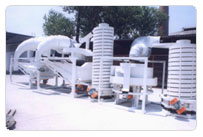 | | |
| --- | --- |
| Power | 13.97Kw(380V) |
| Processing capacity | 0.8 -1 t/h (kernel) |
| Rate of whole kernels | 90% min |
| Rate of seeds in the kernels | 2% max |
| Rate of seeds and kernels in the shells | 0.3% max |
| Occupied area | 18m×2.8m |
| Height | 3.2m |
| Weight | 7t |
| Operator | 2 person |