Popcorn Machines
Funny movie, a cup of cola held in hand... enjoyable! But wait, seems not full. How could absence of popcorn filling in mouth?
The popcorn making machine is one of our products of snacks food processing machine. It is easy to operate and in perfect design on structure and shape, suitable for both home use and stall-keepers.
Now, the supply of popcorn making machine has 3oz, 8oz, 16 oz, different specification. Every popcorn machine is with stainless steel kettle and tempered glasss windows. The kettle of popcron making machine can be twin arm suspended or removable. The outshape of the popcorn machines is eye catching with fresh red color. Different colors can be combined together as your like.
There are two design for the structure of popcorn machine, table design and removable carter design. Except model GC906 and GC908 have heat lamps for warming, all other popcorn machines offer heated popcorn deck, this helps popcorn that has already been made stay warm until it is served. Our popcorn machine can be plugged into any household electrical outlet.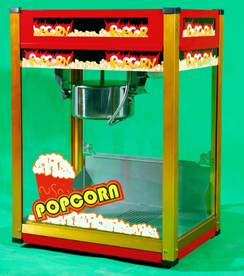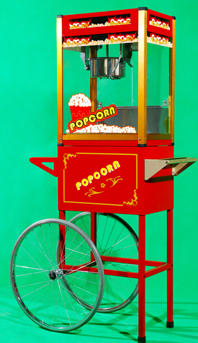 Model
16oz Popcorn Machine
8oz Carter Type Popcorn Machine
8oz Table Type Popcorn Machine
3oz Carter Type Popcorn Machine
Power/Frequency
220V/50HZ
220v/50/60HZs
Net Weight
43KGS
24KGS
2.2KGS
Max Power
1300W
1080W
Packing
1pc per package
1pc per two packages
1pc per package
1pc per box 4 boxes per package
Overall Dimension(cm)
82x 62 x112
59x45x75 and 67x49x62
59x45x81
58x45x48
Material
Stainless steel, ABS glass panel
MOQ
10PCS
Certificate
CE,CCC
Qty loaded in container
80pcs/20' FCL
180pcs/40'FCL
210pcs/40'HQ FCL
80pcs/20' FCL
180pcs/40'FCL
210pcs/40'HQ FCL
1000pcs/20' FCL
2500pcs/40'FCL
2800pcs/40'HQ FCL
Popcorn Making Machines for Home Use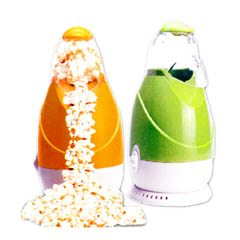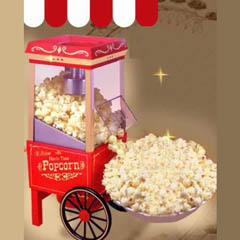 Product specifications: 220V 50Hz
Rated Power: 900W
How to Use Home Popcorn Making Machines
See the description carefully before using that
Kick measuring cup and cover, will be put into measuring cup corn explode.
And then feed corns into the machines. Note: Do not add any seasoning corn, such as food oils, fats, salt and so on, can not be added directly to the machine of any seasoning.
All the above and the measuring cup, attention should be in line with the fuselage above and close
Connected to the power, open the switch, a minute or so of corn with the Chun-chun Hong popcorn started to burst, after blasting off the switch, cut off the power.
If you want to the production of popcorn for your machine's residual cornflakes all cleared, and then repeat the steps above, but please ensure that the operation of machinery oil 5 minutes to 15 minutes after the interval.
Notice on Popcorn Machines Operation
220V AC this product, please check the voltage before use is consistent with the specifications of the machine;
Must not be in the entrance of popcorn is added to other ingredients, such as food oils, fats, salt, so as to avoid damage to the machine, and lead to fires;
The products work, with high temperature, do not touch the mouth covered by a roof and into the material, the use of the products are for adults, children can not be used alone
This product work, blasting out of a high temperature meters, contact with the skin should be avoided;
This product work, can not be opened half-way popcorn from above or measuring cup;
Each time can not be used for more than two cycles (from the end to add corn to the corn burst cycle), each use should be shut down after 15 minutes of cooling, can be used at boot time;
Clean the product, in addition to measuring cup and cover, the body can not be immersed in water or other liquids in the cleaning, application cleaning cloth;
This product is the power to adopt "Y" type connection, if the damage repair should be sent to specialized maintenance, not on its own disassemble and change;
In order to avoid leakage, not to plug or other parts submerged in water or other liquids;
When not in use or cleaning, the plug should be pulled out, to stand at room temperature after the temperature in;
When the power cord or plug damage, or other failure, do not use this product should be sent to specialized maintenance points, inspection, repair;
The product belongs to the family using popcorn making machine, please do not use in the outdoors;
Do not let the power cord or hanging in the table show that the thermal contact.
Note: All the above popcorn machines for sale are our main specification. If you have requirement on special speicifcation, pls kindly inform us. We can do as clients' design. If you want to buy popcorn making machines, hope you can contact us by call or email at any quantity. We are very pleased to service for you.