Sesame Paste Mixer
Sesame Mixing Tank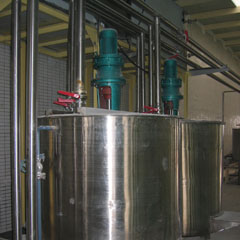 Sesame Mixing Tank
Volume can be made by your requirement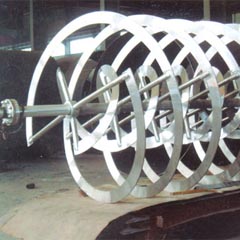 Ribbon Plate of Sesame Mixing Tank
Ribbon Plate Mixer suitable for Paste Matarial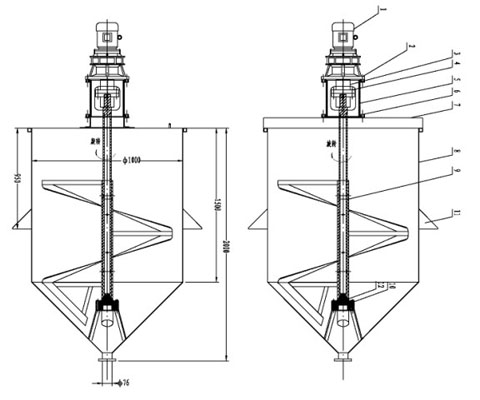 Ribbon Mixer Tank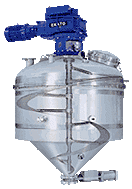 The Mixing Tank is helical type vertical mixing tank. It equipped the ribbon type mixing lamina for sesame paste blending.
Sesame Paste belongs to sticky material, which is difficult to mix them fully. Generally, sesame paste need to use ribbon mixer plate type mixer which can mix the paste more equally. The Ribbon Mixer Tank produced by us is special for mixing sesame paste, featured easy to feed material from top of tank, fully mixing material for preventing sesame paste from settlement and delamination.
The Sesame Mixing Tank is one type of mixing tank. We can produce other type of mixer tank used for food and chemcal industries. They can be vaccum and equipped with different type of mixing lamina for different material.
The Vaccum Mixer Tank have ability of stiring and storage of liquid or sticky paste material. It is able to bear pressure. The mixer tank is flexible in application. It can be applied in usage of sterilization and mixing additive of material. It is agility in using, with vacuum suck material feeding device.
This mixing equipment can be used for all kinds of ranges, especially in food and chemical industry such as paste mixing, drick mixing, medicine liquid mixing etc food industries and dope, gluewater etc chemial industry. The mixing tank can be used to mix and blend many kinds of material, such as coating and others in the field of chemical industry.