Cassava flour mill plant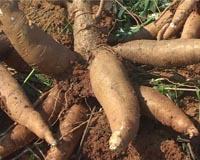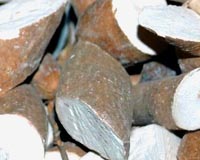 The capacity of cassava starch mill machine is from 3t to 30t. You can chose the specifications right for you.
The production process of cassava flour mill plant includes: raw material washing, peeling, rough crushing, fine crushing, residue and starch slurry separation, starch slurry refining, dewatering, airflow drying, dressing and packaging.

Main Cassava Processing Machine
| | | |
| --- | --- | --- |
| High efficient washer | Rasper | Vacuum sifter |
| Decorticator | Centrifugal sieve | Hydrocyclone |
| Automatic packer | Airflow dryer | High efficient cooling starch sifter |
Quality Standard of Cassava Starch
Moisture (%)
<=: Excellent grade: 14.0 First grade:15.0 Eligibility:15.0
White degree (%)
(457nm blue ray)>=: Excellent grade:92.0 First grade: 88.0 Eligibility:84.0
Fine degree (%)
(100mesh pass rate)>=: Excellent grade:99.8 First grade:99.5 Eligibility:99.0
Speckle (pc/cm2)
=:Excellent grade:2.0 First grade:5.0 Eligibility:8.0
Acidity (ml)
Excellent grade:14.0 First grade:18.0 Eligibility:20.0
( Neutralization 100g dry starch consume 0.1mol/NaOH )
Ash (%)
<=:Excellent grade:0.2 First grade:0.3 Eligibility:0.4
Protein (%)
>=:Excellent grade:0.15 First grade:0.20 Eligibility:0.30
Mucosity degree
>=:Excellent grade:1.30 First grade:1.30 Eligibility:1.30
SO 2
<=:Excellent grade:0.001 First grade:---- Eligibility:----
Quality Standard :
QB1840-93