Storage Silo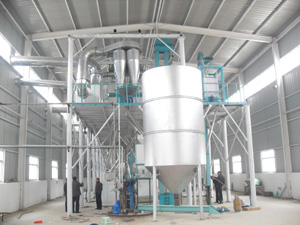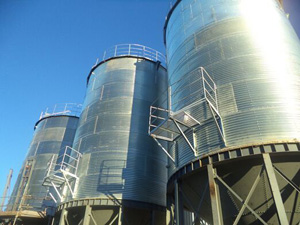 The storage silo is used to store bulk materials in agriculture, such as wheat, maize, flour, and cereal feed. It is widely applied in flour mill plant, grain processing plant, oil and fat plant, cements storage and water treatment.

Powder | Granular | Liquid Materials Storage
Features of storage silo
The capacity of storage silo is 5-10000 ton/silo
The silo wall is constituted by galvanized steel plats.
The steel plats are connected by high strength bolts.
The silo wall is thick enough to sustain the swelling pressure.
The external side is enhanced with stiffeners, which can sustain vertical friction.
The cut surface of silo present Z shape.
The silo roof is supported by radial beams.
Composition of storage silo
The hopper is composed by inclined and ring beams, conical plate and lacing wire.
The inclined beam is made of steels, and forms an H shape to enhance the stability of structure.
The ring beam is made of compressed channel steel, serving to support silo, connect inclined beams and conical plate.
The conical plate is full-welded, safe, beautiful and reliable.
The roof and main part of the silo bin is made of galvanized steel plate.
Classifications of storage silo
By usage: grain storage, seed storage, flour storage, and starch storage.
By construction material: stainless steel silo, corrugated steel silo, bolted and welded steel silo.
By base design: cement base and steel frame base.
Choose reliable Storage Silo supplier
We are experienced storage silo supplier, dedicated to work out the most efficient and economical scenario to meet your specific requirement. We have professional engineers to design the system in order to fit your materials and coordinate with your flour mill plant.
In addition, we can provide one-stop service including design, research and development, manufacture and installation for the overall flour mill plant. We manufacture not only storage silo but also lifting, transmission, drying, cleaning, temperature measuring, ventilation and other supporting equipments.