M6FS Series Flour Mill
M6FS-30/35/40 Series Flour Mill with Auto-feeding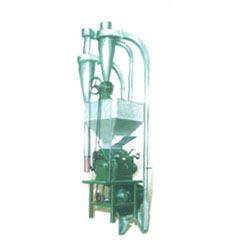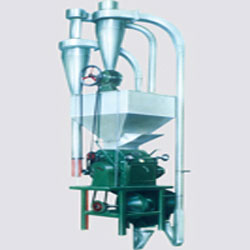 6FS-30/35/40 series auto-feeding flour grinders combine 6FY-30/35/40 series flour grinding machines with pneumatic elevator. They bring about the automation of elevating grain material, and reduce the labor intensity of operation of flour grinder in China.
The series flour grinding machine can be apllied in many kinds of raw materials such as wheat, corn, pepper etc.
Model
Output(kg/hour)
Power(kw)
Flour Quality
L×W×H (mm)
Packing Size in
container of 20feet
6FS-30Flour Grinder
>300
7.5
Confirm with the stipulation of GB1335-86 <Wheat Flour>
1140× 780× 3350
1/10
6FS-35Flour Grinder
300-400
7.5
2600× 950× 3435
1/10
6FS-40 Flour Grinder
350-450
11
2600× 950× 3435
1/10
Main Technical Specification of 6FS series Flour Mills:
| | |
| --- | --- |
| The Rotary Speed of Fast Roller (r/min) | 900 |
| Speed Ratio Between Fast Roller and Slow Roller | 2.4:1 |
| Way of Feeding(r/min) | Slow Roller Feeding |
| Specification of the Sieve | 320×415 (mm) |
Features of M6FS series Flour Mills:
This series flour mill machinery features compact structure, good volume, easy installation, operation, and maintenance.It can be used for wheat, jowar, coffee, maize, cocoa, carbon powder and etc.
This sereis wheat mill combines auto-feeding devices with pneumatic transport, which is composed by centrifugal fan, cylone, air-lock, wheat feeding tunnel underground and the main machine, 6FY series wheat flour mills.
The centrifugal fan, cylone, air-lock, wheat feeding tunnel integrate pneumatic transport device. With the technology of lifting by wind, it decrease the laboring density and power consumption.
And the reasonable design lower its consumption of electricity power. It is very suitable for small size of flour grinding machines for home use or small workshop of wheat mill.
FZ series Pneumatic Transportation And Material Lifting Machine
FZ-3 Pneumatic Transportation and Material Lifting Machine is a new kind of equipment for lifting and transporting wheat materials which is designed and made by our plant. It is a necessary accessory of 6FY series flour grinders.
FZ-3 Pneumatic transportation system uses air transport principle popular in home and abroad. The transported wheat materials are raised at teh negative atmosphere pressrue, separated from the airflow by cyclone, and then sent to the upper part of flour grinding machines. There are such advantages to sue the FZ-3 as the following:
Improve the mechanized level of equipment. Reduce the intensity of labor used in grain mills.
Mostly prevent the wheat from leaking, dust pollution and improves working condition for using air transport equipments with strictly closed feeding tunnel.
Reduce the temperature of milling materials. Repeat easily and improve the flour quality. This machine is composed of drawing & transporting system (fan motor tunnel and material receiver), seperating system (cyclone and air-shutter), raw material funnel and operating system. It is easy to operate and maintain with reasonable structure.
Proved by a lot of tests, FZ-3 machine's technic and economic index all meet the requirement of design. It is well praised and welcomed by all the users.
Structure of 6FS series flour grinding machines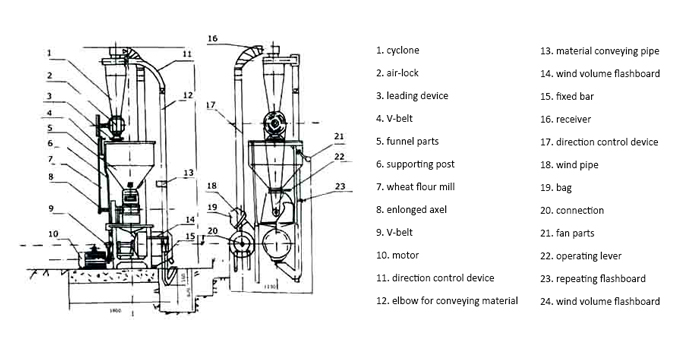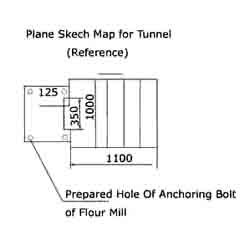 Note: The bag connected to flour grinding machine is prepared by user. It is made of cotton cloth with about 2 meter long, 250mm diameter. One end of the bag is fixed on the output of the fan. The other end is fasten by a string. Clear the fine wheat flour in the bag regularly. Insure the bag ventilated.