M6FD Series Flour Mill
6FD Flour Mill with Big Storage Overground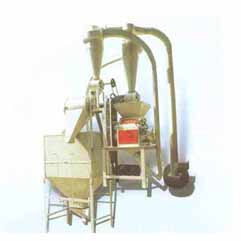 6FD-35/40L series flour grinder with auto-feeding and big wheat hopper overground is the latest patent products invented by our technicians. The grain mill can be used togethter with our 6FY-35/40 wheat milling machine.
parameters of the product: JB/T5680-2000
Model
Output(kg/hour)
Power(kw)
Flour Quality
L×W×H (mm)
Packing Size in
container of 20 feet
6FD-35
300-400
7.5
Confirm with the stipulation of GB1335-86 (Wheat Flour)
3100× 1500× 3300
1/6
6FD-40
350-450
11
Performance features of this Flour Mill
The 6FD-35/40L series flour grinder is developed from original 6FD series wheat milling machine, with large wheat hopper overground for convenience of raw material feeding. The volume of material storage is very big, suitable for the clients in West and North of China where rich in raw grain material.
The structure of flour grinder is simple and compact, easy to operation and maintenance.
The unit of wheat milling machine with big wheat hopper, pneumatic transport for auto-feeding material can process wheat flour at farm or home use.
The process of milling wheat
Wheat Cleaning before flour grinder
Harvest →bagging storaged →screen →magnetic separator → wasing machine → wheat washer (dry) → go to conditioning for flour grinder
Conditioning
In order to make the followed wheat milling machine work more smoothly and improve the extraction rate of flour grinder, we need water and suit temperature well for flour grinding according to different types of wheat grain. This process is known as conditioning in grain mill process.
Grinding Operations
The whole process of grain mill can be divided into coarse grinding, purification and reduction.