Portable Biodiesel Processor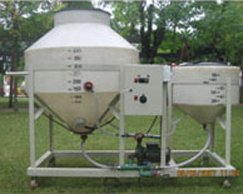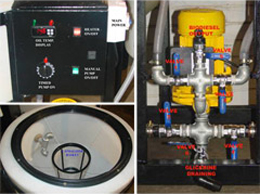 This unit was designed to process 400 litres per batch of Bio-diesel.
Main features of Small Biodiesel Processor:
Closed and Automated Pre-mix System
The mix of methanol and NAOH is done inside a closed container that minimizes operator exposure to catalyst components, which can be dangerous.
Premix Agitation System
Our field studies have revealed that the creation of sodium methoxide is sometimes hampered by crystallization and subsequent isolation of NAOH from the catalyst process thru mistakes in blending during the process. Our addition of an agitation system to the premix tank alleviates any messy and potentially hazardous exposure to catalyst components. This modification option minimizes the operator's exposure to the catalyst and its initial components.
Multi Feedstock Heater
Additional heater system installed on the reaction tank and frame. This option allows the operator to utilize a wider range of feedstocks. As this units processing is accomplished with heated feedstocks the resulting transesterfication process is greatly accelerated. The machine's operations allow the user to control both catalyst induction and feedstock warming in any combination thereby optimizing the production effort.
Included with the biodiesel processor you'll receive complete instructions manual, maintenance and trouble shooting, and a lab kit complete with titration instruments and safety gear for the biodiesel process.
The Processing Workflow
The oil is pumped into the main tank(Big tank)and heated until reached desired temperature that was previously set with the automated digital thermostat.
Methanol is pumped into the closed premix tank(small tank)and the selected catalizer introduced a few minutes after while the methanol is circulating.
Once the catalizer is totally disolved with methanol,methoxide is obtained.
Using a very simple and safe method, methoxide is pumped into the main tank where oil reached the desired temperature. The mixing process starts and one hour later the machines stops automatically. Inmediately the glicerine and biodiesel separation can be seen through the plastic tank. Let it settle for 6 to 8 hours and drain the glicerine from the bottom of the tank The biodiesel is ready to be washed in our wash tank.