YZL-18 Oil Expeller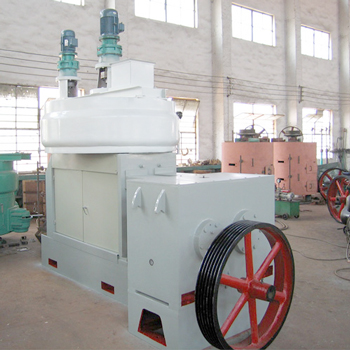 | Capacity | Power | Weight | Dimension | Dry cake residual oil rate | Temperature request |
| --- | --- | --- | --- | --- | --- |
| 6~12T/D | 37.7KW | 3500KG | 3176×1850×2600mm | 4~8% | 10~50℃ |
Model YZL18 screw oil expeller is advanced products with capacity of 7~10tpd special for middle and big scale oil plant. It is applicable for making vegetable oil from oilseed and various oil-bearing crops.
All of our products reach ISO9001 standard. The quality is in line with international standards. The pressing worms can be replaced as required by the user for the purpose of oils from some other oil-bearing materials, such as rice bran oil etc.
The YZL-18 oil expeller features rational structure, stable performance, simple process of operation, convenient maintenance etc. Moreover, the machine has very high efficiency, which combined steaming and roasting together and can realize continuous working for long time. The oil produced are high in quality, light in color and rich in nutriment, with high yield and little residual oil in cake.
Raw materials for LYZX18 oil press
It is suitable for once press of high oil-content materials, such as hulled rapeseed kernel, peanut kernel, soybean, olive, walnut kernel, maize, rice bran, tea seed, safflower seed, sea buckthorn seed, chinaberry seed, rubber seed, chinese prickly ash seed, tomato seed, watermelon seed, grape seed, flaxseed, scabish, hot pepper seed, castor bean, orange seed, cacao bean, coffee bean, perilla seed, almond, peach kernel, hip and so on.
Features of the YZL-18 oil expeller
The parts of machine are durable and firm. Such as wormshaft, pressing worms, cage bars, gears and so forth are made of high-grade alloy steel through hardening treatment. As a reasult, in spite of the conditions of high temperature and abrasion under day and night working, they can keep durable for a considerable period.
The YZL-18 oil expeller is of perfect construction,easy managing,and with firm and durable performance.
With self-provided temperature control moisture adjusting device.
Auto-continuous working, which reasults in the saving of labor. The whole process from feeding, steaming, roasting up to the discharge of oil and cake goes on automatically and continuously.
Combination of steaming and roasting. It can be regulated in accordance with the varied temperature requirements of different oil-bearing materials before pressing in order to get oil with high quality.
Technical Parameters of YZL-18 Oil Expeller
Capacity
varied for different materials
Inner diameter of cooker
ø 1220mm
Speed of stirring shaft
35r/min
Steam pressure
5-6kg/cm2
Diameter of press chamber:
Pressing bores: ø 180mm
Rear Section: ø 152mm
Speed of pressing worm shaft
8rpm
Speed of feed shaft
69rpm
Pressing time in press chamber
2.5min
Seed steaming and roasting time
90min
Max temperature for cooked material
125-128
Power demand
18.5kw
Overall Dimension
28501850*3270 (mm)
Net Weight
about 5000Kg
Production Capacity for Different Materials
| Name of oil seed | Capacity(kg/24hrs) | Oil Yield (%) | Residual oil in dry cake(%) |
| --- | --- | --- | --- |
| Hulled rapeseed kernel/Colza seeds | 9000~12000 | 33~38 | 6~7 |
| Peanuts kernel | 9000~10000 | 38~45 | 5~6 |
| Sesame seeds kernel | 6500~7500 | 42~47 | 7~7.5 |
| Cotton seeds | 9000~10000 | 30~33 | 5~6 |
| Soya beans seeds | 8000~9000 | 11~14 | 5~6 |
| Sunflower seed kernel | 7000~8000 | 22~35 | 6~7 |
| Rice bran | 6000~7000 | 10~14 | 6~7 |