YZS-68 Oil Press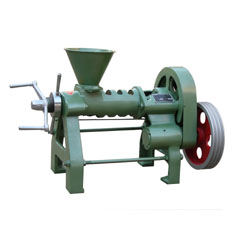 Model
YZS-68 Screw oil press
Capacity
0.8-1T per 24 hours
Power
3 – phase 5.5kw
12 / 15 hp – 1440rpm
Net Weight
150 kg
Package
920 x 390 x 750mm
The machine is the smallest model in our product of oil press. It can process crude vegetable oil at capacity of 0.8~1ton per 24 hours. All kinds of vegetable oil seeds can be feeded, such as ground nuts,beans,rape and cotton seeds, sesame, olive, sunflower, coconuts, and grass seeds etc.
The YZS-68 oil press have compact structure, occupied small area and very portable to put it anywhere if you use a small flat bed trailer or equip flour wheels under the wood flat panel. The oil extracted out from YZS-68 Oil Press is only crude oil, which need more process such as filtering, simple refining. Then the oil can be edible oil for cooking. So it is very convenient for home using. It have only 5.5kw power consumption. So the power can be electricity or diesel generator. For biodiesel lovers, they can make biodiesel by themselves at home by using the machine.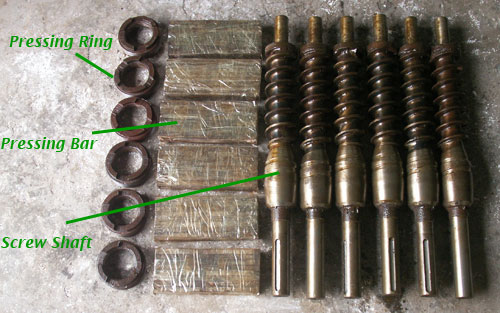 YZS-68 oil press is composed of one piece of worm shaft and several pieces of screw rings. It adopt two section of pressing in press chamber. According to different raw materials, the oil content of feedstock can be fully extracted out at several times of pressing. The residue of material still content certain oil which have not extracted cleanly. The oil residues are rich in nutrition as a kind of animal food. So the oil residue can be used as a good feedstuff for animals.
Features of YZS-68 Small Oil Press
Compact structure, easy operation and less maintenance.
Widely used in processing various seeds and nuts.
Cast iron machine base.
Average rotating speed with the special gear box.
Continuous working with low noise.
High oil yield and superior grade oil cake
Varieties of YZS-68 Oil Press
YZS-68A Oil Press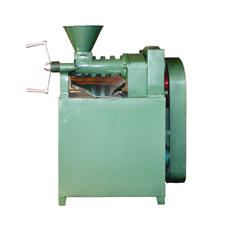 YZS-68A Oil Press have similar structure as YZS-68 Oil Press. The only difference is that there is a motor frame under the new oil press. The main purpose is for considering some clients use diesel generator as main power of oil press.
YZS-68C Oil Press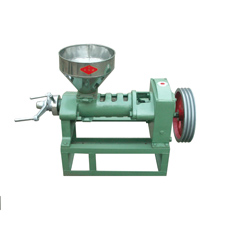 YZS-68C Oil Press have different structures from YZS-68 Oil Press. From outshape, the 6YL-68 have a gearbox more than YZS-68C. The machine use direct drive from motor power. Compared with the gear transmission, direct drive have low noise and better reasult but the wear and tear of machine parts will be increased. But considering the oil processing, some of our client would like to choose this model of oil press.
Oil Yield of Different Materials:
| Raw Material | Capacity(KG/HR) | Output Rate(%) | Output Efficiency |
| --- | --- | --- | --- |
| Cotton Seeds | 50-60 | 12-14 | 65-72 |
| Soybeans | 28-37 | 10-16 | 61-65 |
| Peanuts | 45-60 | 35-45 | 91-92 |
| Rape Seeds | 45-60/p> | 30-38 | 82-85 |