YZS-80 Oil Press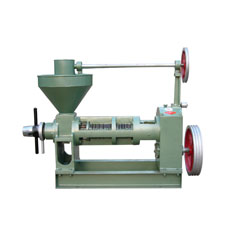 | | |
| --- | --- |
| Model | YZS-80 Screw oil press |
| Capacity | 2-3MT/24hr |
| Power | 5.5kw |
| Size | 1540 x 540 x 620mm |
| Weight | 370kg |
The model of oil press is our main products with middle capacity at 2-3ton per 24hrs, with power 3 phase 5.5kw & 8HP-12HP. It can equip with a diesel generator for home use. This kind of oil press is a better choice for oil extraction of soybean seeds, peanuts, rape seeds, cotton seeds, sesame seeds, sunflower seeds, jatropha seeds, palm, coconutand grass seeds etc.
The structure of the YZS-80 oil press has good stableness. It enjoys good sales at the market of oil extraction. The model YZS series oil presses adopt screw type dynamical expeller pressing. That is to makes use of screw-driving force to squeeze oil from oil seed material.
The YZS series oil presses are advanced products after more than 10 years study and improvement. It features easy operation, compact structure and better performance etc advantages.
Oil Yield of Different Seeds
The handling capacity, oil yield and dry cake residue differs in terms of different oil bearing materials. Here are the oil extraction specifications of different materials.
| Raw Material | Raw Material In-feed per 24 hours (KG) | Oil yield Per 100kg of Raw Material(KG) | Dry Cake Residue(%) |
| --- | --- | --- | --- |
| Rape Seeds | 1900-2400 | 30-35 | 7.5-8 |
| Ground Nuts | 1900-2400 | 35-45 | 7 |
| Beans | 1800-2300 | 10-14 | 6.5-7 |
| Sesame Seeds | 1900-2400 | 44-47 | 6.5-7.5 |
Process of Making Rapeseed Oil
Seed cleaning

This is a indispensible process that ensure the quality of end products. It conbines aspiration, indent cleaning, sieving and other cleaning method. The temperature of cleaning process affect the quality of meal.

Pre-treatment

The cleaned seeds are heated up to 30-40℃ to keep it from shattering. The moisture content is also carried out in this process. Then the seed cover is flaked by roller mills, which is adjusted to smaller clearance.

Cooking

The flaked seeds are heat up to 75-100℃by cooker. Cooking process can inhibit the enzyme activity of flaked seeds, which is determined by temperature and moisture content.

Pressing

the heat-treated seeds are conveyed into continuous screw presses to decrease the oil content of seeds from 42%(8% moisture basis) to 16-20%.

Refining

The crude oil have to go through a series of refining process to remove some of its contents like phospholipids, mucilaginous gums, free fatty acids, colour pigments and fine meal particles.
Varients of YZS-80 Oil Press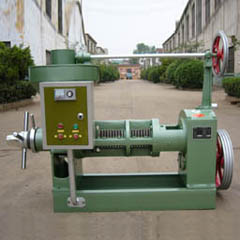 YZS-80 Oil Press with Control Box
The image is YZS-80 with Control Box. It have two function, one is to preheat the press chamber attached with electrical rings. The preheated electrical rings is wrapped at the inside layer of press chamber. The perheating will make material more suitable for oil extraction. The other one is control the start of machine. With the control panel, you can easily realize to control the oil press by putting your finger on the button.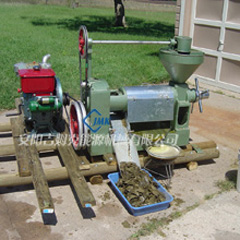 YZS-80 Oil Press with Diesel Generator
This is a picture from our customer. The model YZS-80 oil press can equip with a set of diesel generator. The crude oil can change into diesel by simple refining with chemical. And the diesel can be feed into the diesel generator for expeller pressing more oil.