6LB-250/350 Oil Filter Press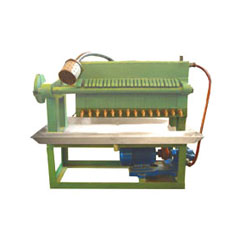 | | | |
| --- | --- | --- |
| Model | 6LB-250 | 6LB-350 |
| No.of filter plates | 13pcs | 25pcs |
| Dimension of filter plate | 250*250mm | 350*350mm |
| Working pressure | 0.3-0.4MPa | 0.3-0.4MPa |
| Productivity | 100kg/h | 200kg/h |
| Power | 0.75kw | 1.1kw |
| Dimension | 780*530*670mm | 1300*750*700mm |
| Weight | 155kg | 470kg |
The 6LB-250/350 filter presses belong to clarification equipments mainly used in the filtering of crude oil and clean oil in vegetable oil process. Oil filter press always be used as a oil purifier in the oil plants for edible oil or biodiesel. This model filter is suitable for filter crude oil and refined oil, and it is also can be used to filter bleaching oil in the refining workshop.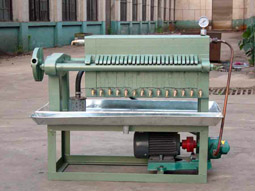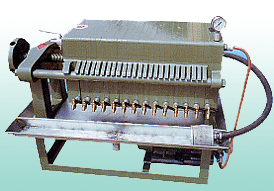 The freshly extracted crude oil contains moisture, fiber, colors etc., which make the color of oil dark and opaque. These impurities can be removed either by keeping the oil settle for a few days to separate the clean oil by gravity, or by using filter press presses.
By using an oil filter press, the crude oil will be filtered through a cloth and heated to about 100℃ to boil off any remaining moisture. After the process of filtering, the cleared oil is usually sufficient to meet the quality requirement of customers.
When the cleared oil is correctly packaged, they have a shelf life of several months. However, the oil requires additional refining process of de-gumming, neutralizing and de-coloring to have a similar quality to commercially refined oils, and these stages are difficult to complete at a small scale oil processing workshop.
The YLY-250/350 Filter Press is easy to operate and maintain. Decades of selling period shows its excellent working performance. The final filtered oil is clean and have little impurities. 6LB-250/350 filter presses can be matched with Oil Press Model YZS-68, 80, 95, 100, 120,130,160 for cooperative work, and they have matched electric motor.