YZS-160 Oil Press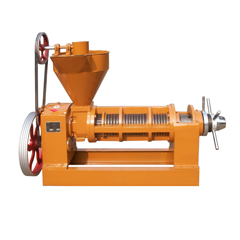 | | |
| --- | --- |
| Capacity | 14-16ton/s4hrs |
| Power | 22kw |
| Size | 2000*600*850mm |
| Weight | 830kgr |
The YZS-160 oil press specializes in vegetable oil extraction of various kinds of raw materials such as jatropha seeds, sunflower seeds, peanut seeds, hulled sesame seeds, rape seeds, canola seeds, cotton seeds etc. The YZS series oil presses remain with small oil presses for processing cooking oil or crude oil for biofuel, because its structure is designed without cooker upside of the expeller housing.
The feeding hopper of YZS series oil press is open type with rotating plate pushing the material into expeller housing. The YZS-160 oil press is suitable for application in middle or small oil plant. It is also popularized in the personals home use. The YZS-160 can be used as pre-press expeller in oil extraction plant.
Technology Parameters of YZS-160 oil press
| | |
| --- | --- |
| Shaft Speed | 35-39 revolutions per minute |
| Transmission Ratio of Gearing | 15/38/15/52=1:8.78 |
| Equipped Power | 18.5-22Kw |
| Belt | B type triangular belt |
| Size of Machine | 2020x700x1480(mm) |
| Net Weight | 960Kg |
Operation of the YZS series Oil Press
The operation of screw oil press is based on the axial movement of the material in the screw press. 7.5 to 30 hp electric motor was used to power the machine. The electrical heating circles are connected to electricity controlled by electrical cabinet and switch on to heat the expeller chamber to increase the temperature of seeds in housing for higher oil extraction rate.Then the oil seeds are fed from the hopper to the expeller chamber pushed by the worm shaft which rotates continuously.
When the electric motor is switch on, the main shaft and the auger, which moves and packs the seed being heated along the expeller chamber to the far side, will start to rotate. The compression is achieved by decreasing pitch of the auger, designed to act as a screw press. The conditioned seeds are compressed and the oil content forced out through the slots on the chamber. The heating of the seed and high pressure generated at expeller chamber due to drastic reduction in volume, ensured expelling of the oil contents.