YZS-130 Oil Press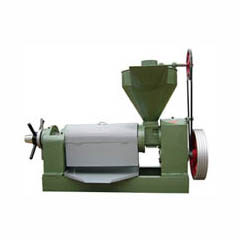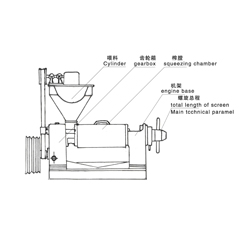 | | |
| --- | --- |
| Model | YZS-130 Screw oil press |
| Capacity | 9-12T per 24Hours |
| Power | 18.5kW/3-phase/1440rpm |
| Size | 2320 x 700 x 780mm |
| Weight | 820kg |
The YZS-130 oil press is for processing vegetable edible oil or crude oil for biofuel. The expeller press is characterized by durable and strong quality and high efficiency of oil extraction rate. Most of oil seeds material can be used such as jatropha seeds, sunflower seeds, ground-nuts, sesame seeds, rape seeds (canola seeds), tea seeds etc. The kind of screw oil press can be used for various kinds of raw material after cleaned.
Functional Characteristics of YZS-130 Oil Press
Energy saving: Decrease 40% electrical power with the same output
Labor saving: Decrease 60% labor saving, one or two people can start production.
Wide use: A multi-purpose machine that can press more than 20 oil plants such as peanut, sesame,rapeseed, soybeans, oil sunflowers, flax and so on.
Oily pure: Vacuum filter residue to guarantee the oil and pure.
Small size: only 10m2-20m2 can meet the needs of production.
Technical Parameter of YZS-130 oil press
| | |
| --- | --- |
| Revolving Speed of Shaft | 35-39 revolutions per minute |
| Transmission Ratio of Gearing | 15/38/15/52=1:8.78 |
| Equipped Power | 15-18.5Kw |
| Triangle Belt | B type |
| Size of Single Machine | 1980x680x1460mm |
| Net Weight | 760Kg |
The Main Componets of YZS series Oil Press
Various of components of the oil press are designed using standard formula. The YZS series oil press is a series of oil press with lesser capacity. Compared to big scales oil expeller, these small expeller press possess of compact structure, high efficiency and stable performance. The main components of the series oil presses are frame, cake outlet, expeller housing, heating compartment, auger, hopper, auger pulley and shaft as shown in Figure above.
The frame is constructed by strong cast iron and angle bar to give the oil press rigidity and stablility that will withstand load and vibration. The cast iron of frame is processed through tempering at high-temperature and quenching at low temperature.
The cake outlet is located at the end of the pressing housing. The conditoned seeds are compressed and the oil content forced out through the oil outlet slots on the housing. The pressing housing is also called press chamber.
The heating compartment is composed by a set of electrical rings. The electrical circles heats up the pressing housing to increase the temperature of oil seeds inside.
The hopper into which the oil seed is fed is located at the top of the press housing. It is open type feeding hopper with plate to push the material into housing.