YZS-100 Oil Press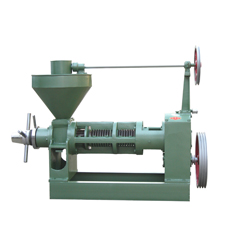 | | |
| --- | --- |
| Model | YZS-100 Screw oil press |
| Capacity | 4-5MT/24H |
| Power | 7.5KW & 15HP |
| Size | 1910*610*765mm |
| Weight | 550kg |
The YZS-100 oil presses are spiral type pressing expeller for oil extraction. It has the advantages of low investment, effortless operation, wide adaptability in all kinds of oil seed material and high oil production rate, which welcomed by customers who deal with vegetable oil extraction at small or middle capacity.
The YZS series oil presses are suitable for pressing oil from rape seeds, soybean, peanut, cottonseeds, sunflower seeds, ground-nuts,grass seeds, tung oil seeds, jatropha seeds and other oil seeds materails from vegetable oil crops.

The YZS series products are in accordance with the standard JB/T9793.1-1999 in China. Their quality are authorized by CE certificate and ISO9000. The durable performance and reasonable design of our press expeller also accepted by all of our customers all the world. We have much long term cooperaiton with our clients for many years.
Structure of YZS-100 Oil Press
YZS-100 oil press machine is a screw-driven oil making machine that mainly composed of feeder, gear box, pressing cage, screw shaft and the machine stand.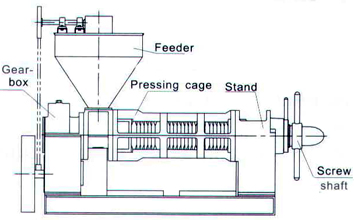 Technical Parameters of YZS-100 Oil Press
| | |
| --- | --- |
| Shaft speed | 30-40 r/m |
| Gear ratio in gearbox | 15/40×15/55=1:9.78 |
| Motor | 7.5KW 1440rpm |
| Belt | B type 3150-4000mm |
Oil Output and Residues rate for Different Materials
Raw Material
Feeding/hour(kg)
Oil Output /100 kg (for raw material)
Oil Residue(%)
Rape seeds/ canola seeds
Hot-press
3500-4000
30-35
7.5-8
Cold-press
1800-2000
28-35
Ground nuts
Hot-press
3500-4500
35-45
7
Cold-press
1000-1500
32-40
Soya bean
Hot-press
3300-3800
10-14
6.5-7
Cold-press
1700-2500
8-14
Sesame seeds
Hot-press
3500-4000
44-47
6.5-7.5
Cotton seeds
Cold-press
2000-2500
10-14
5.5-6.5