YZS-120 Oil Press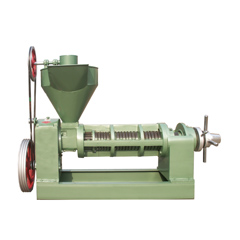 | Model | Capacity | Power | Size | Weight |
| --- | --- | --- | --- | --- |
| YZS-120 Screw oil press | 6T/24H | 15kW/3-phase/1440rpm | 1970 x 700 x 780mm | 680kg |
The YZS-120 oil press is an well-designed screw expeller for processing oil seeds materials from all kind of vegetable oil crops, such as groundnuts, sesame, cazala, jatropha, canola, cacao and coconut etc. Compared to other oil pressing machines, YZS-120 oil press is provided with many advantages such as simple configuration, easy to betake, strong functions of application. The oil extractoin of this series expeller presses have better work continuity. It can take 24hours continuous working process. The products adopt high technology of vegetable oil extraction. The rate of oil output is high. Most of oil seeds material can be pressed, suitable for middle or small oil mills and personal professionals. It can also be used for pre-press in extraction sections of oil mills.
Performance Features of YZS-Screw Oil Press
Wide application for a rage of vegetable seeds and nuts: Be capable of processing oil from coconut (copra), soya beans, cotton seed, sunflower seed and so on.
High oil output rate: Directional pressure, multistage propulsion, can press oil out at one-time.
High production: Strengthen feed system and fltting speed to improve pressing work efficiency
Safe and convenient: Compact structure, Occupy less space, easy and safe operation with traditional full enclosed protective covers.
Elegant appearance and easy to clean: electrostatic spraying with new material, strong adhesion, resistance to grease and high temperature.
Durable in use: The machine adopts High quality wear-resistant steel and fatigue resistance of the casting to ensure continuous working for a long time.
Technology Data of YZS-120 oil press
Revolving Speed of Worm Shaft
45-55 rpm (a unit of frequency,
abbreviation of revolutions per minute)
Transmission Ratio of Gearbox
15 / 34 × 15 / 55 = 1:9.59
Power matched
11 - 15Kw
Triangle Belt
B type
Measurement of Machine
1820×570×1320mm
Net Weight
580Kg
The Working Principle of YZS series Oil Press
The prepared feedstock put into the feeder of running oil press. The feedstock flow into the press chamber from the feeder. The screws are pushed forward to inside continuously by rotating shaft. The feedstock come under great pressure until oil is extracted out.
Under the high pressure in press chamber, there is prodigious friction resistance among feedstock, screws, chamber. In that case, the oil parts between feedstock created relative movement. On the other hand, the diameter of radical circle in screws increase more and more. When the screw turns, the worm can make the feedstock both move forward and turn outside. At the same time, the feedstock near surface of worm rotates with the shaft. In this way, the movement of every particles in feedstock at press chamber are not at the same speed and the same directions.
And relative movement exists between particles. The quantity of heat by friction satisfy the integrant heat at technological operation of oil pressing. That will help the heat denaturalization of proteid in feedstock. The colloid broken, the plastic increased, and viscidity of oil decreased, which make oil easy out, so the oil output rate of oil press is improved.