YZS-95 Oil Press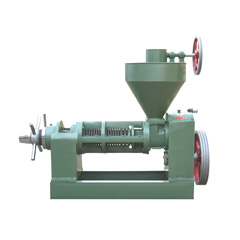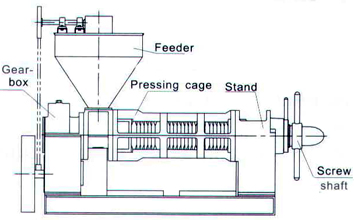 | | |
| --- | --- |
| Model | YZS-95 Screw oil press |
| Capacity | 5T per 24Hours |
| Power | 11KW |
| Size | 1920*550*765mm |
| Weight | 480kg |
The YZS-95 oil press is an advanced vegetable oil processing machinery, characterized by its reasonable design, easy operation, compact structure. The YZS series oil press have wide suitability, which can be used in many kinds of raw materials such as peanut seeds, canola seeds, sunflower seeds, sesame seeds and grass seeds etc. The process of oil extraction is continuous, featured high productivity.
Structure of YZS95 series Oil Press
The series oil presses are composed by feeder, gearbox, pressing chamber, screw worm shaft and base of machine etc. This kind of screw oil press belongs to dynamic screw pressing expeller. Our model of oil press is named by the diameter of press chamber, such as YZS-95 is the oil press with diameter 95cm press chamber.
Technical Features of YZS-95 Oil Press
The rotating speed of worm shaft: 40-50 rpm
Transmission rate of gearbox: 19/42*19/57=1:6.63
Power to be matched: 5.5kw (960 rotation/minutes)
The length of trigonal belt: 3150-4000(mm)
Overall dimension(mm): 1320*540*1020 (length * width * heigth)
The net weight of machine: about 330kg
Variants of YZS-95 Oil Press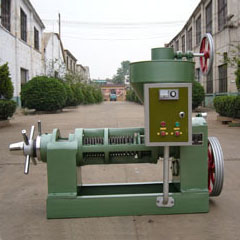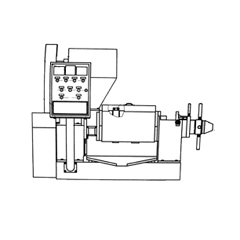 YZS-95C Oil Press with Pre-heater / The Sketch of YZS-95C Oil Press
| | |
| --- | --- |
| Capacity | 3-4T/24hrs |
| Power of motor | 7.5 kw-1440rpm |
| Power of heater | 1.5kw |
| Control Cabinet | 380V, 50HZ, 3Phase |
Pre-heated of Oil Press
The YZS series screw oil press can equip with a heater device. The heater is composed by electrical windings. It can be heated by electricity with control panel of oil press. The function of heater is to pre-heat the parts of pressing chamber. After heated, it will shorten the time of temperature rising. Only reach a certain temperature, oil can be extracted out from feedstock favourably.
Features of YZS-95C Oil Press
The base of oil pressing machine is made of cast iron with stable performance
The special structure of gearbox can keep the running of oil press at evenly rotating speed
The main parts of oil pressing chamber is processed through tempering at high-temperature and quenching at low temperature
Cake thickness can be adjusted once the machine stop running
Superior grade oil cake
Compact structure, stable function, simple maintenance