Disk Separator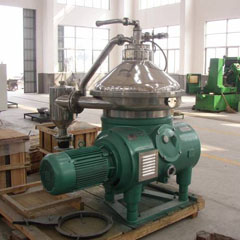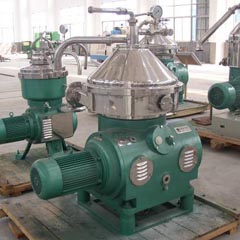 Marine Disk Separator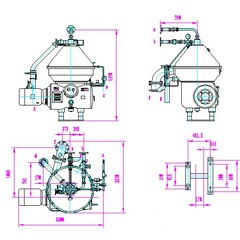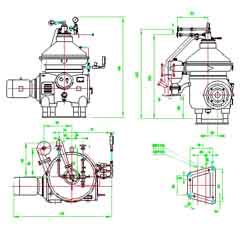 Flowchart of Marine Disc Separator
Disc Separator
DHZ Series Automatic Discharging Disk Separator is the special equipment for refining oil and fat. The oil disc separator is used for liquid clarification.
It has the traits as high speed rotating, stable operation. Completely sealed up of the inlet and outlet system. Lower noise and fine separating affection .Centripetal pump system designed by our professional designer has the traits as stability outlet pressure ,large regulating sphere and operating easily. Also this series separator has professional automatic domination case with safety protection device, advanced automatic vibrating testing instrument can view vibrating number at any time .we can make separating and discharging to the best affection from regulate separating parameter directly at the screen.
The series Disc Separators are widely used in degum , de-soap and water washing technology in vegetable oil refinery. It can also be used for refinery of animal oil and mineral oil .And liquid-liquid, liquid-solid separations of light industry, chemical industry, pharmaceutical and food industry.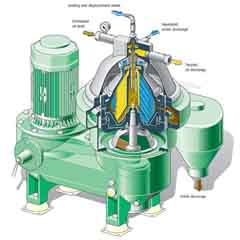 Bowl cross section of a self-cleaning fuel oil separator with disc bowl
Types of Disc Separator for Sale
Model
Capacity (l/hr)
Inlet Pressure (mpa)
Outlet Pressure (mpa)
Power (kw)
Weight (kg)
Overall Dimension
(mm) L*W*H
DHZ360
1200-2500
0.05
0.1-0.25
7.5
650
1500×1150×1500
DHZ400
2000-4000
0.05
0.1-0.25
15
1500
1800×1200×1800
DHZ470
2500-7000
0.05
0.1-0.3
15
1700
1800×1200×1800
DHZ550
6000-15000
0.05
0.1-0.3
22
2600
1850×1550×2050
Disc Separator is a kind of settlement type centrifuge for the separation of materials difficult to separate (such as the viscous liquid and composed of small solid particles suspended in liquid fluid density is similar to the composition of emulsion, etc.). The disk separator is the most widely centrifuge settlement in all the separators.
The main operating parameters of Disk Separator is as follows: drum speed, clear liquid and re-liquid interface location, such as feed speed.
The main structural parameters of Disc Separator is as follows: the drum inside diameter, the equivalent of settlement size, disk size and disk number of the total film, tap-tap method and agencies.
The main application areas of Disc Separator
Mineral oil industry: ship master, land use diesel engines, power plants, such as the purification of fuel and lubricants;
Dairy industry: fresh milk clarification and purification, skim;
Vegetable oil industry: the purification and clarification of palm oil, refined vegetable oil degumming, from soap, such as dehydration and dewaxing;
Beverage products industry: beer, juice, beverage clarification, plant protein extraction, wastewater treatment, etc.; biological engineering clarified fermentation broth;
Starch industry: starch concentration and grading;
The pharmaceutical industry: antibiotics, pharmaceutical and biochemical pharmaceutical extraction in the process of purification or clarification, the clarification of pharmaceutical medicine, etc.;
The chemical industry: chemical raw materials, purification or clarification;
Wool Industry: scouring effluent from the extraction and purification of lanolin;
Latex industry: purification and concentration of natural rubber esula;
Other industries: such as laboratories, petroleum, coking, kaolin, pulp recycling, electrolyte handling, wastewater treatment, environmental protection, as well as animal and plant protein extract, animal fat extraction and refining, separation of mixed fatty acids.
Marine Disc Separator is for removal of major equipment such as marine diesel fuel and lubricating oil in the water and impurities, in order to reduce wear and tear of machinery and equipment to extend the life span of mechanical equipment.The design, manufacture and inspection of Marine Disc Separator in line with the GB/T5745-2002 Marine Disc Separator standards.